Patrick and Johanna Power
Patrick Hayde joined the 31st Foot on 10 April 1842 aged 18 (ie born 1824) at Kilkenny.  He was born 17 March 1824[1] in Fethard, Fethard parish, Tipperary.  He was a tailor by trade and he was 5' 7 with blue eyes, brown hair and a sallow complexion.  Unfortunately I cannot find his birth record in the Fethard (or any other) parish records.
In 1846 he was transferred to the 50th Foot and then to the 32nd Regiment where he served until 1853.  He was discharged having served 11 years due to ill health.  He had hepatitis and a disease of the lungs.
In 1854 he was in Clonmel and in 1857 he was a sergeant in the South Tipperary Militia based in Waterford.
In 1858 he joined the 20th Foot (2nd Bn) at Cahir (which is south of Cashel and not far from Clonmel) as a sergeant (two weeks after the birth of his second child) and was again discharged in 1863.  The regiment was based in Ireland until 1858, then Aldershot to 1861, Montreal to 1862 then back to Aldershot before moving to Portsmouth in 1863.
Patrick purchased his discharge from the army in 1863 for pds18[2].
From 1863 until 1866 he was instructing privately.
He and his wife, Johanna Power, had 6 sons and 4 daughters.  They lived in Ireland to 1858 then at Taunton (1864, 1866), Portsmouth (1868, 1870), Liverpool (1873) and Bury (1875).  In 1866 he was back to being a tailor.  In 1868 he was a civil guard in Portsea, by 1870 he was a sick bay steward on HMS Volage[3], then he was on HMS Hercules, and by 1873 he was a Greenwich pensioner and in 1875 a Chelsea pensioner.
I found the marriage of Patrick and Johanna in Clonmel records in 1855.  They were both recorded as paupers.  Their first child in 1856 was baptized in Clonmel parish.
A son was born in Killenaule in 1862 when Patrick was serving with the army in Canada. This clearly connects them to the Ballinure area.
It is also interesting how Patrick was in Taunton at the same time that Edward (see Tree # 1) enlisted in the 67th Foot at the same place in 1867.
In June 1876 a son, Joseph, was on trial for larceny.  He was acquitted.
In 1871, Johanna was recorded in the Portsmouth census as being the wife of a steward in the Royal Navy.  Patrick died in Bury in 1880 and at the time of the 1881 census his wife Johanna was living in Bury, with 9 children (one had died young).  It appears that Patrick and family moved to Bury around 1875, when Patrick was almost 50.  Bury has the barracks for the Lancashire Fusilliers, which was what the 20th Foot became.
He may have moved there to be close to his old regiment. Perhaps he had a pension from the army, or maybe he just wanted to be close to old colleagues.
Two of their children, William Augustine (born 1860) and George Vincent (born 1866) emigrated to America in the late 1880s.  The rest stayed and their many descendants are mainly in this area, although in the last 30 years have spread south.  I have found the descendants of William in America but not those of George.
According to a descendant, Patrick was a Bandmaster in the Lancashire Fusiliers.  I however did not find this referred to in the Army records.  My ancestor from Tree # 1 was however a Bandmaster and I wondered if the relative had mixed up the stories she had heard.
The map of Bury on the page below shows where the family lived between 1881 and 1901.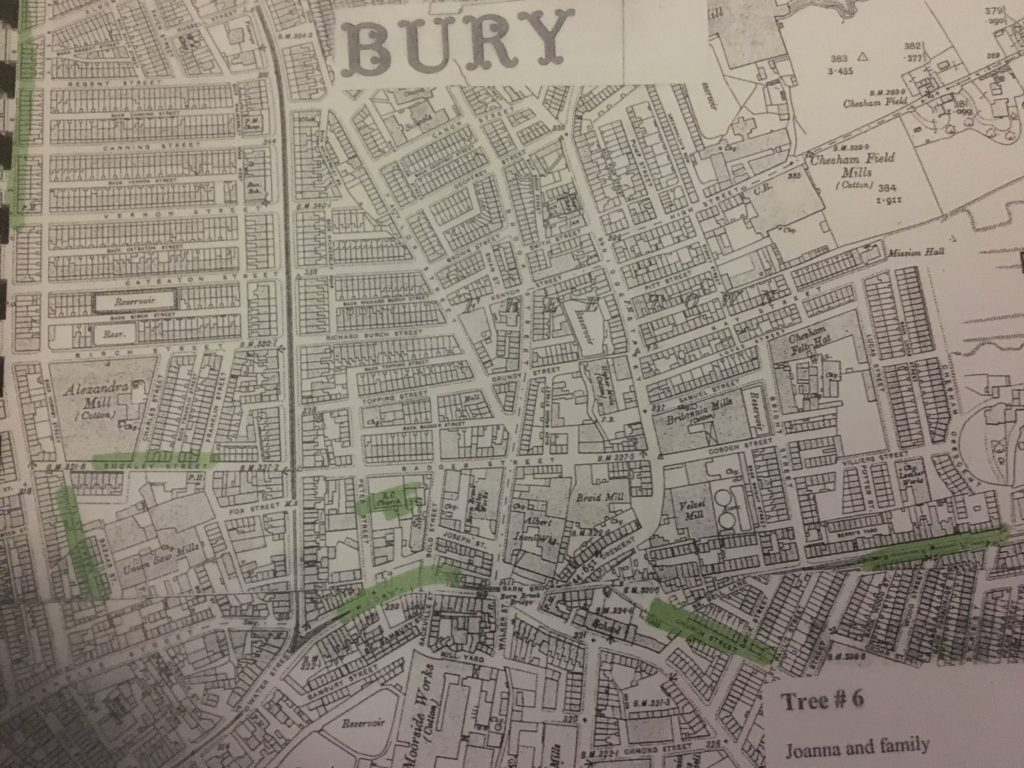 The family can be summarised as:
Patrick and Johanna Power
Margaret Hayde b 1856, Clonmel
Patrick Joseph Hayde b 1858, Cahir, Tipperary. Mar Sara Hobson/Holden in 1881. Descendants in Bury
William Augustine Hayde b 1860, Somerset. Emigrated to America in 1880 and mar Adelaide Kelly 1906. Descendants in New York
Thomas Hayde b 1862, Killenuale. Mar Mary Carroll 1884. Descendants in Bury and Rochdale
Hanora Hayde b 1864, Taunton
George Vincent Hayde b 1866. Emigrated to America
Mary Anne Hayde b 1868, Portsmouth
Henry Hayde b 1870, Portsmouth. Became a Redemptionist Brother
Johanna Hayde b 1873, Liverpool
Edward Hayde b 1875, Bury. Mar Clara Annie Smith 1898
A copy of this family tree is at https://www.ancestry.co.uk/family-tree/tree/51256936/family
This tree is genetically linked to trees 1, 9 and 10 that all originate from the Ballinure area.
[1] His date of birth was on a declaration Patrick made at Portsea on 23 May 1867.  This however stated his birth as 17 March 1827!
[2] A 1866 court case explains where these funds came from.
[3] HMS Volage was originally an iron screw corvette launched in 1869 and was sold in 1904.  In the 1890s it, together with 3 sister ships, were training ships.