Most of the earlier arrivals in America seem to have come from this branch of the family. The early origins are outlined in the Carlow Posts page.
The following high level summary should help make understanding of the linkages easier as regards the families that went to America: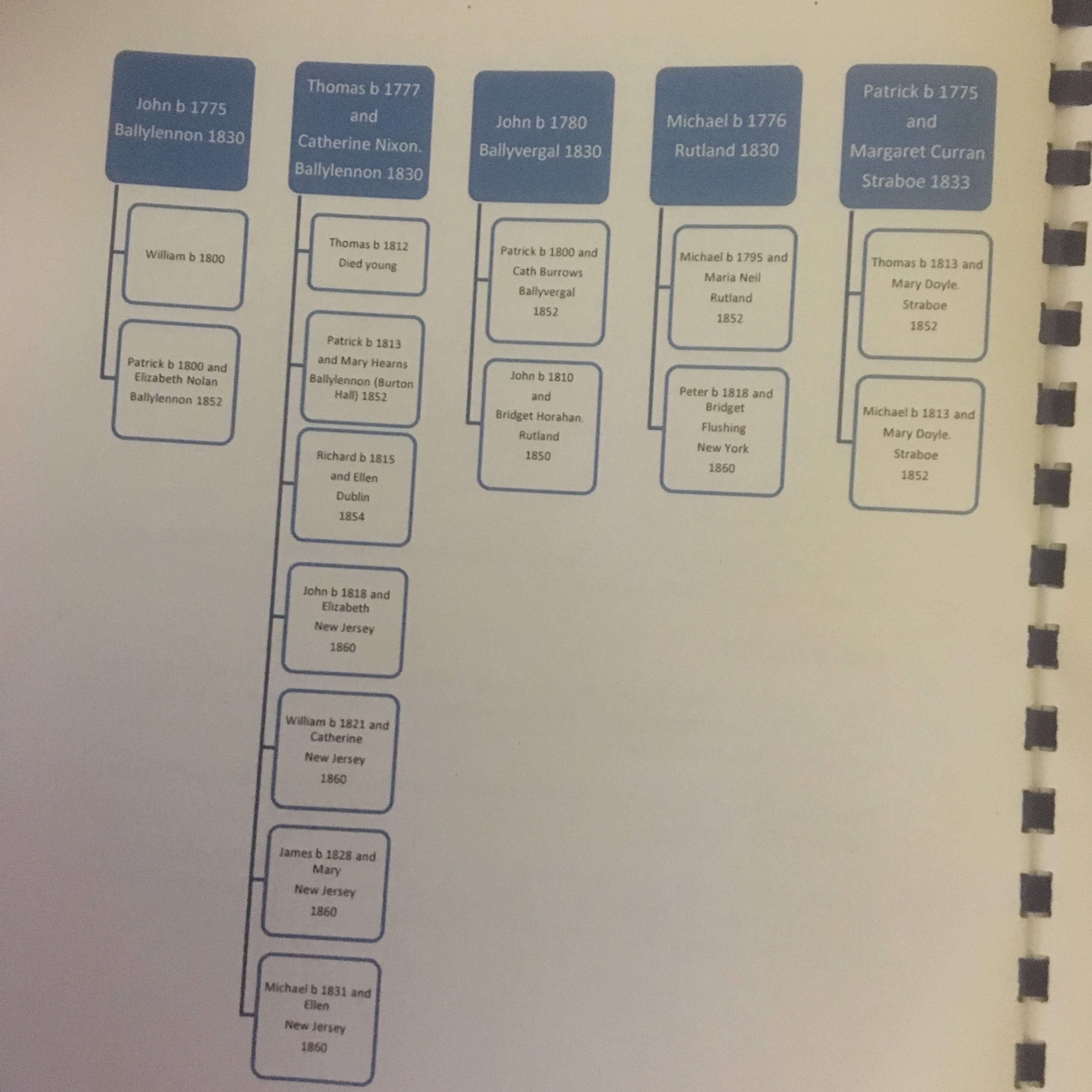 Descendants of family from ?
In the 1850 census, there was a Peter (b 1822) and James (b 1822) Hayde.  They arrived together on the Siddons on 24 July 1847 as Hade. By 1850 they had both married with infant children and were living at Flushing, Queens.
Peter and James were presumably brothers. I have not found them in the Irish records.
Peter (b 1822) and Ann Black
Peter married Ann and they had:
Richard (b 1849) – NY
Mary (b 1852)
Patrick (b 1854) and Mary
Anne (b 1855)
Jane (b 1859)
Frank (b 1861)
Peter was naturalized in 1855. They were in the 1850 census as Hayde and the 1860, 1870 and 1880 census in Flushing as Hade.  In 1880 Ann was listed as a widow living at Redan St, Flushing. By 1892 she was a Hayde while Patrick and Mary were Hade.  Richard was in the 1900 census also as Hayde. He was single and boarding with others.
Patrick Hade was in the Manhattan Home for Aged in 1918 and he died later that year. He married Mary in 1883 and according to the 1900 census they had 3 children none of whom were living in 1900.
I have not found any living descendants.
James (b 1822) and Catherine
James married Catherine and they had:
Mary (b 1846) – Ireland (not in 1850 census)
John (b 1848) – NY
Andrew (b 1848)
Jane (b 1852)
Anne (b 1854)
Nicholas (b 1856)
Catherine (b 1858) – Illinois
Peter (b 1863)
James was naturalized in 1855. They were in Flushing (as Hayde) in 1850, and Kane, Illinois in 1860 and 1880 (as Head). It appears that they moved to Illinois around 1857/58. I have not found any living descendants of this family.

Descendants of John Hayde (b 1775) from Ballylennon
John had two sons who continued to farm land at Ballylennon. They were:
William b circa 1800
Patrick b circa 1800 and Elizabeth Nolan
Descendants of Patrick (b 1800) and Elizabeth Nolan
William and Bridget Kirwin
A grand-son of Williams's, a William Hade (b 1869), married Bridget Kirwin in Ireland in 1905 and arrived in NY on The Arabic on 20 June 1909 with their daughter Mary Patricia (b 1906). They were intending to stay with a sister, Barb Campbell (who had paid William's fare), at 853 Amsterdam Ave, NY.
William was a groom in the 1901 Irish census and was recorded as that in the arrival records.
In 1915, they were in Bradford Ave, Queens and had another daughter, Agnes, who was 20 days old.  William was a grocery driver.
He was a coachman from Flushing in the WW1 Draft registration papers.
By 1930 William was a night watchman and they were living in Roosevelt Ave, Queens.
Descendants of Thomas b 1777 and Catherine Nixon from Ballylennon
Thomas and Catherine had a family in the early 1800s. Thomas died 1839 and Catherine in 1848. The eldest son, Richard, was in Dublin in 1854 and the four younger brothers (John, William, James and Michael) emigrated after their mother died and settled in Elizabeth Union, New Jersey.
John Hade (b1818) and Elizabeth Byrnes
John and Elizabeth married in NJ in 1859 as Heade (wit by William Heade and Mary Heade[1]) and had:
Thomas b 1858 (NJ) – clerk in 1886/7 and Mary
James b 1861 – clerk in 1879-1887 (may be a John James)
William b 1863 – clerk 1884-1891
John died 25 July 1864 during the civil war. He was an oil cloth worker in the Draft Registration records. His parents were stated in his death records to be either Thomas and Catherine or Thomas and Mary. I have assumed the former.
Elizabeth was with William in South Street in 1880.
William Hade (b 1821) and Catherine Hickson
William and Catherine had:
Catherine Anna b 1853 (NJ)
Thomas William b 1856 (d 1895) mar Jane/Jennie Smith 1881

Thomas W b 1882, d 1899
John James b 1885 and Grace Pier

Thomas William b 1920
ANO
ANO

Walter Charles b 1883
Edward b 1890 and Marie Steingass
Mary b 1856. Mar John Rogers 1875
John Richard b 1860, d 1860
Michael James b 1861, d 1866
William and Catherine were probably in the 1850 NY census and William was a waiter.
William died 27 June 1862 during the civil war. He was an oil cloth worker in the Draft Registration records. Catherine was with Thomas and Mary and John Rogers in Elizabeth Ave in 1880. Catherine died 1888, b 1825.
James Hade (b 1828) and Mary
James and Mary had:
Elizabeth b 1856 (NJ)
Thomas b 1858 (waiter and steward)
William b 1860 (clerk)
John Joseph b 1862 (clerk)
Mary Catherine b 1868, d 1869
Helen b 1868
James was an oil cloth worker in the Civil War Draft Registration papers.
James (coachman) and Mary were with Elizabeth and Thomas in 7th Ave NYC in 1880.
Mary was in 3rd St, Manhattan with William, John, Thomas and Helen in 1900 as Hade.
Michael Hade (b 1831) and Ellen
Michael and Ellen had:
Julianne b 1854 (NJ). Mar Geo Brophy
Kate b 1857. Mar Daniel Kirk 1877
Michael was an oil cloth worker in the Civil War Draft Registration papers. He died in 1881.
Michael and Ellen could possibly have arrived on the Isaac-Wright in October 1848. The records state Martin and Ellen but the Martin could be a Michael.  The ages fit. There is however no record of their marriage in Ireland.
Michael and Ellen were at Oak Street 1872-1891.
Descendants of John (b 1780) from Ballyvergal
Descendants of Patrick (b 1800) and Cath Burrows from Ballyvergal
Patrick and Cath had six children.  The two eldest sons appeared to take over the family farm while the two youngest, Thomas and Patrick emigrated.
Thomas (b 1835)
Thomas (b 1835) and Patrick (b 1837) had arrived by 1860. Thomas probably arrived 1853 on the Edward Hanly. Patrick and Thomas were both in Flushing together in 1860 as Hade.  Thomas was naturalized in1856.
Thomas was recorded as Hayde in 1870 in NYC and was working as a man servant. There is no obvious trace of him after this census.
Patrick (b 1837) and Sarah
Patrick was naturalized in 1868. He married Sarah and by 1870 was in Moreau, Saratoga with two children – as Hayde.  By 1880 Patrick had died and Sarah and the three children by then (Thomas, Mary and Alice) were in Queensbury, Warren. They were also there in 1892. In 1900, their son Thomas Hayde (b 1862) was a carpenter boarding at Kingsbury Town. By 1920 he was in the Warren County Almhouse – as Hayde.
George and Mary Nolan
George, who was an older brother of Patrick and Michaels', had a son who also emigrated.  This was Patrick James (b 1861). He arrived 1895. In 1900 he was in Newport, Rhode Island as a coachman. He married Margaret Hanlon in October 1900 and by 1910 they were in Bergen, New Jersey where he was still a coachman.
In 1911, Margaret and the children returned to NY after what was probably a trip to Ireland.
They had an extensive family and descendants are mainly in NJ.
Descendants of John (b 1818) and Bridget Horahan from Rutland
A grandson, Michael Joseph (b 1880) from Pollerton Road arrived on Celtic on 2 May 1908 with his sister Mary (b 1883).
In 1910, Michael was staying in Hudson, New Jersey, with an uncle John Curran and his family. I'm not sure of his movements after this.
Descendants of Michael (b 1776) from Rutland
Michael had two sons.  Michael who was in Pollerton in the 1850s and Peter. Peter was probably in the Ballyvergal valuation books in 1840 on Burton owned land.
Peter (b 1818) and Bridget
By 1860 Peter (b 1818), a cartman, and Bridget were also in Flushing.  They started a family in NY by 1847 but don't appear in the 1850 census.
Peter and Bridget had:
Johanna (b 1857)
Peter (b 1861)
Thomas (b 1863)
Mary (b 1866)
There is no sign of them in 1870 or later censuses.
Descendants of Patrick (b 1775) and Margaret Curran from Straboe
Descendants of Thomas (b 1813) and Mary Doyle from Straboe
Thomas and Mary had 11 children, two of whom emigrated to America – Ellen (b 1858) and Bridget (b 1861).  Two other children had children who also emigrated.
Bridget Hade (b 1861)
Bridget married Michael O'Toole in 1891 in NY.  In 1910 and 1920 they were in 503 W 145th Street.  The 1920 record showed that Bridget arrived 1885 and was naturalized 1900. The 1910 record however said she arrived 1882.  This confirms that she arrived on SS Germanic on 28 Aug 1882 aged 21.
Ellen Hade (b 1858)
Ellen was in the 1940 census as widowed and living with Joseph O'Toole (son of Michael O'Toole and Bridget above), her nephew in Chatterton Ave, Bronx. Patricia B Hade, a single cousin born in Ireland (b 1883) was also living with them.
Daniel (b 1847) and Julia
A son, Daniel Hade (b 1847), and Julia Allen had 4 children of which two emigrated, Mary (b 1890) and Thomas (b 1900). Mary arrived 1909 and was to stay with aunt Mrs Toole at 503 W 145th St. Thomas arrived 1925 from Montreal and married Margaret Murphy 5 Feb 1928 in NY. He was naturalized in 1932 when they were living 500 W 169th.
Patrick (b 1842) and Mary Hade
Another son was Patrick who married Mary Hade. Their children included Thomas (b 1872) who married Anne Kirwan and Bridget (b 1888).
Thomas Hade (b 1872) and Anne Kirwin and their children
Thomas (b 1872) and Anne were in Pollerton Road, Carlow, in the 1911 census with their 4 children Mary (b 1895), Ellen (b 1897), Michael (b 1900) and Bridget (1902). They were in Pollerton Road with a brother William and parents Patrick (b 1842) and Mary Hade.
Their son Michael, arrived Boston on SS Samaria from Queenstown on 23 June 1924. He was to stay with his aunt, Mrs B Kirwan, 77 Bradford St, Flushing, NY.
Bridget arrived in NY on SS Baltic from Queenstown on 28 Nov 1926.  She was a nurse and was to stay with her brother Michael at 503 145 St, NY (see also Bridget and Mary above at same address
Bridget was in Pollerton Road in 1911 and arrived 6 Apr 1912 on SS Baltic. She was to stay with cousin Will Hade at 318 E 37th Street. She travelled with Mary Norris (Bridget's eldest sister Mary married a Norris).  It is not clear which Will Hade she stayed with. Bridget was naturalized 25 April 1925 and at the time was single and living at 421 W 113th Street.
Bridget also arrived back in NY in 1936 and 1939 in Boston, presumably after a trip back to Ireland.
Descendants of Michael Hade (b 1813) and Mary Doyle from Straboe
Michael and Mary had six children, two of which had children that emigrated to America. These were:
John (b 1850) and Anne Curran and their children
In 1901, John and Anne were in Straboe with seven of their 11 children. Two had died and two had left Ireland.  Their eldest son had joined the British army and their eldest daughter Mary (b 1884) married James Scully in New York in 1915 and they settled in Newport, Rhode Island.
The 1920 census noted Mary arrived 1908 and was naturalized in 1916, the same year as her husband. The 1930 census however says she arrived in 1910.
She probably arrived in NY on 28 Aug 1911 on the SS Caronia having previously lived in NY between 1909 and 1911.
Thomas Hade (b 1852) and Mary Gilfoyle and their children.
In 1901, Thomas and Mary were in Straboe with their six surviving children. One son had died.
Their eldest son, Michael Joseph (b 1882) arrived in NY on the Celtic on 2 May 1908 with two cousins.  He was to stay with his uncle, John Gilfoyle in Patterson New Jersey. In 1910, 1920 and 1930, Michael was staying with John Gilfoyle and family who had arrived in 1888, in Patterson, New Jersey.
His WW1 draft registration cards showed Mrs Gilfoyle from Paterson, NJ, as his nearest relative.
[1] This is probably the wife of James.