The first census of Ireland in 1659 did not show any records with relevant surnames in the Kildare or Wicklow counties.
The same applies to the Heath Money Records of the late 1600s and the Religious Census of 1766.
However, derivations of the name appear in the Ballymore Eustace parish records in the 1780s and the Dunlavin parish in 1815. Both these dates reflect when these parish records first started. These parishes bordered each other and were around Hollywood in Wicklow, a town just south of the bigger town of Ballymore Eustace in Kildare and north of Dunlavin in Wicklow.
In the parish records there are several families in the Ballymore Eustace parish and a smaller number in the Dunlavin parish.
The Public Record Office records of wills showed an Owen Heade from Snugborough (by Donard) who died intestate in 1769. (Owen is Eoghan in Irish or Eugenius in latin)
By the 1830s there were three families in the Skelp, Newtown area of Ballymore Eustace and three in the Blackhill, Friarhill, Donard area of Dunlavin.  As can be seen from the map below, while these villages were in different parishes they were actually very close together on the borders of these two parishes.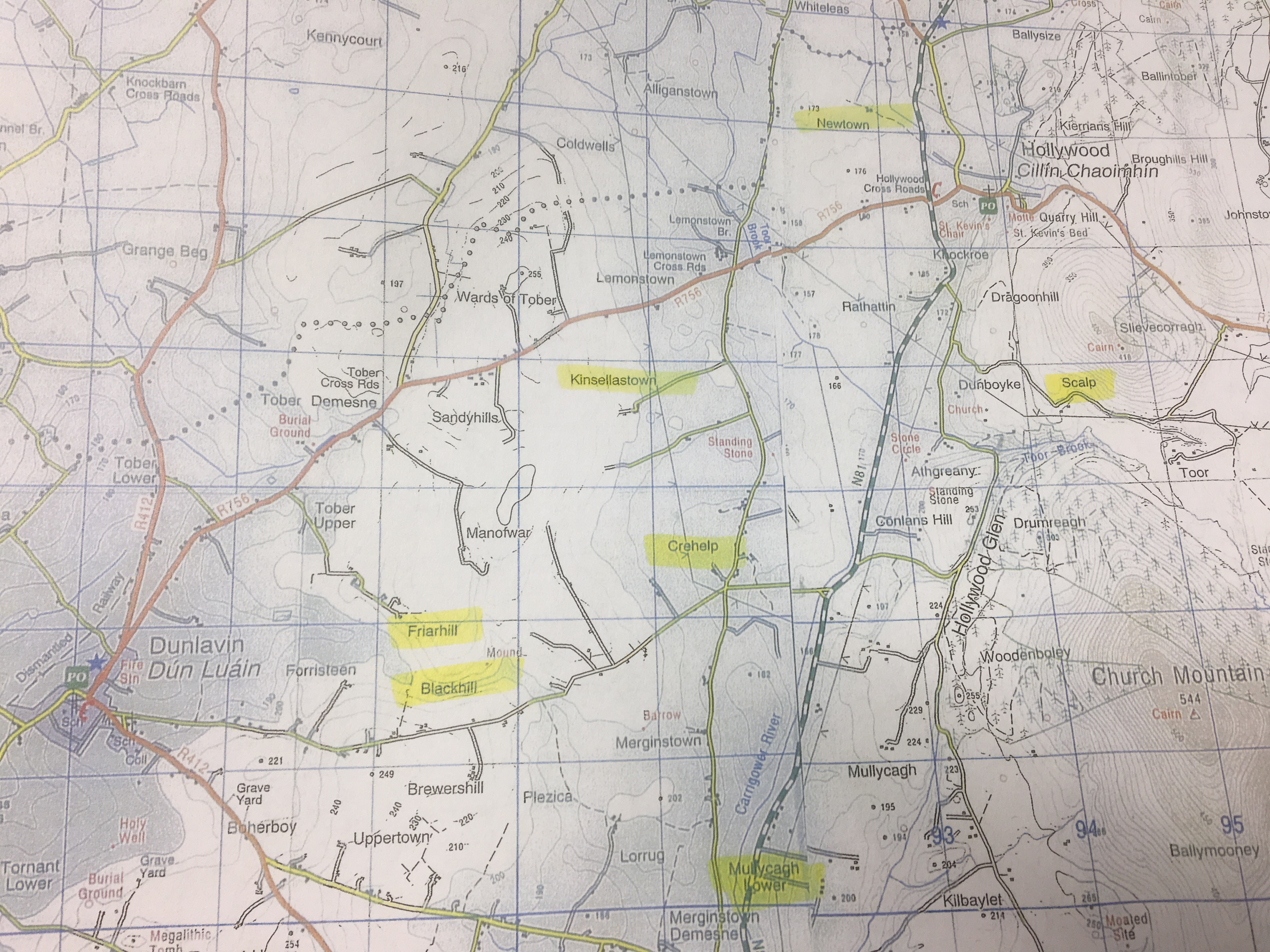 This presence in the early records suggest that they may have been in the area in the early 1700s, and perhaps earlier although in numbers that did not warrant a mention in the census or Heath Money records.
Descendants in Dublin also seem to have originated from this area and DNA tests have supported this assumption.
I have developed three trees around descendants from this area:
Tree # 3

. This is the tree that shows the early presence in this area and the descendants that can be traced from these families.
Tree # 16

.

This covers the following families that are assumed to originate from this area but cannot, in all cases, be proven from these records:

Christopher b in circa 1780. He was in Dublin in the early 1800s and married Margaret Byrne in 1806. They had a family in the early 1800s in Dublin.
William b circa 1815. He married Catherine Vins in Dunlavin parish in 1838 and they had a family in Dublin in the 1840s.
James b circa 1818. He married Bridget Flanagan and had a family in Dublin in the 1840s
Patrick b circa 1824. He married Ester Riley and had a family firstly in Ballymore Eustace in the 1840s/1850s and then in Dublin.
Michael b circa 1830. He married Margaret or Mary Maher and they had a family in Dublin in the 1850s.
These families have been grouped as they lived in similar areas of Dublin at a similar time period.
Tree # 18

.

This covers:

James Hayde and Patrick Hayde who were born in the early 1800s, had similar occupations and had families in Dublin the 1840s.
These have been grouped separately from Tree # 16 as they are clearly related and were in the same area of Dublin at the same time period and are also assumed to originate from the Kildare/Wicklow area.
The DNA of descendants from Trees # 3 and 18 are similar to that of Hayde families from Ballinure, Tipperary. There is therefore a proven link to Tipperary but the specific details are unknown.
The DNA for a descendant from Tree # 16, while different to those of Trees # and 18 is similar to the DNA from a Hayde family from Fethard, Tipperary.
The areas referred to in Tree # 3 are all around Dunlavin, Hollywood and Ballymore Eustace. These can be seen around Hollywood above.
These families and their descendants are:
Ballymore Eustace Parish
1) William b circa 1860 and Anne from Skelp/Scalp.
Lau Head b 1782, Skelp
Maria Heade b 1784
Michael Head b 1786, Skelp. D 1878 Baltinglass. Mar Julia Murphy (b 1794, d 1884) at Baltinglass in 1822. In Skelp in 1833 as Hayde and as Hade in 1854.

William Hayde b 1826. Joined RIC 1848 and emigrated to Australia 1856. Mar Maria Teresa Egan, Victoria

Annie Hade b 1864
Michael Joseph Hade b 1866
James Hade
Julia Hade
Nora Hade
William Hade
Elmas Hade
Jones Hade
Matthew Hade

Patt Hayd b 1828
Michael Hade b circa 1830. Mar Maria Kennedy 1875, Scalp.

Julia Hayde b 1876, Scalp
Mary Hayde b 1878
Michael Hade b 1882. Single in 1911. Died 1929 Dublin
Fannie Hade b 1887

Matthew Heade b 1831 (D 1894 aged 63 Baltinglass)
Ann Heade b 1832

Catherine Head b 1788, Skelp
Richard Head  1793, Skelp
James Head b 1797, Skelp
William Head b 1789, Skelp. Mar Lucy. In Scalp as Hade in 1854
Anna Head b 1804
John ?. Mar Mary Nail. In Skelp in 1833 as Hayde. John D 1842


Anne Hayd b 1829
James b 1830
John Heade b 1834. Mar Sarah Murphy Dunlavin 1852. John was a shoemaker. Crehelp in 1854

John Hoyd b 1855, Crehelp
Thomas Hayde b 1856. Shoemaker. Single in 1911.
Nicholas Heade b 1857
Patrick Hayde b 1858. Single in 1911
Henry Haide b 1859
John Hayde b 1860. Single in 1911
James Haide b 1861, Crehelp
Bridget b 1864. D 1865
Rosanne Haide b 1866. Dublin 1911
Maria Hade b 1870

Patrick Heade b 1839
At the time of the Tithes in 1833, Michael and John Hayde were jointly farming 260 acres with John Murphy, Peter Farrell, Luke Butler, Pat Mowlem and James Kelly.
By the time of the Griffiths in 1854 the same 260 acres were being farmed by Michael and his brother William and John Murphy, Luke Butler, James Hegarty, Richard Kelly and Matthew Farrell. The land was owned by the Rev Lord J Beresford. The Beresford family arrived in Ireland with the armies of James 1 in the early 1600s and were granted large tracks of land (mainly around Waterford) by the king.
Descendants continued to farm this land into the 1900s. Michael who died in 1929 appears to be the last Hayde on this land.
John, who was in Crehelp in 1854, was on 4 acres owned by Richard Kelly. He died in 1883 and his son Thomas took over the property until he died in 1946. There is no sign of any descendants after this date and as the brothers were single (and in their 50s at the time of the 1911 census) it can be assumed that this branch of the family died out.
2) Richard and Hanna. In Newtown in 1833 as Heade

Bridget Heade b 1783
Anna Julia Head b 1785, Newtown
Margaret Head b 1787, Hollywood
Jacobus (James) Headde b 1790, Newtown. James probably died as Hade at Dragoonhill in 1866
Thomas Head b 1792, Newtown. In Newtown in 1854 as Hayde
Anna Head b 1795, Newtown
At the time of the Tithes Richard farmed 44 acres and by 1854 Thomas was farming 46 acres.  The land was also owned by the Rev Lord J Beresford. Thomas disappeared from the valuation records in the 1860s.
3) Eugene (Owen) and Rosa.
Jacobus (James) Head b 1786, Rathattin (a village close to Scalp) – known as Rabattin in the Tithes.
Patrick Head b 1789, Rathattin
There was no sign of this family in the 1830s Tithe or subsequent records.
Dunlavin Parish
4) Henry and Hannah/Judith.
Anne Hede b 1816, Milltown
William Heade b 1817, Blackhill
Michael Heade b 1821, Dunlavin
There was no sign of this family in the 1830s Tithe records.
A Nicholas Hade married Mary Dowling in this parish in 1837.  In Mullycagh Lower in 1854 as Hade. Their children were:
Rose Heade b 1840, Dunlavin
Jane Heade b 1842
Henry Heade b 1845
Thomas Hade b 1848
Mary Hade b 1851
Brigida Hayde b 1865, Mullcagh
I suspect Nicholas is another son of Henry and Hannah born circa 1817 as the dates and location fit and one of his sons' was named Henry, which was an unusual family name at the time.
A Patrick Heade from Mullcagh married Catherine Cuff/Cook in Newbridge parish in 1839. He is probably another son of Henry and Hannah given the reference to Mullcagh. In Dowdestown Great as Hayde in 1851. Their children were:
James Hade b 1840
Patt Hade b 1842
Mary Hade b 1845
Ester Hade b 1847
John Hade b 1849
Margaret Hade b 1852
Catherine Hade b 1854, Dowdestown
Peter Hade b 1857, Dowdestown. Mar Mary Kinsella 1901
5) Patrick (a tailor) and Eleanor Keoghe. In Fryarhill in 1825 as Heade

Rose Heade b 1817
Richard Heade b 1820
Patrick Heade b 1822. Mar Mary Lynch Ballymore Eustace parish in 1840. He was a mason in 1881. In Commons (by Dowdestown) as Hayde in 1851. Their children were:

Ellen Hade b 1841
Bridget Hade b 1843
Philip Hade b 1845. Mar Elizabeth Kavanagh, Dublin 1874
Mary Hade b 1850
James b 1852. Mar Kate Holden, Dublin 1881
Judith Hade b 1855, Tipperkevin
Jacob Hade b 1857, Tipperkevin

Denis Heade b 1829. Served in the army (63rd Foot) from 1847 to 1868. He was a tailor.  Mar Elizabeth Phillipson in Cumberland, Carlisle in 1849 and (when widower) Bridget Butler/Cavanagh Dublin 1868.
Sarah Heade b circa 1840
Thomas Heade b circa 1840. Mar Maria Cahill in Roundwood, Rathdrum 1862. Parents were from Crehelp. Thomas was a shoemaker. D 1911

Patrick Haid/Hayde b 1863. Mar Ellen. Emigrated to USA
Eleanor Haid 1864
Denis Hade/Haid b 1866. Mar Mary Heim. Moved to Liverpool. This family is described further in the Liverpool Posts page.
Thomas Hade b 1867. D 1880
Mary Christina Hayde b 1870. Emigrated to USA
Joanne Hade b 1871
Julia Heade b 1873. Emigrated to USA
Rosanna Hade b 1875. Emigrated to USA
Sarah Hade b 1877. D 1907
Anne Hade b 1880
Elizabeth Hade b 1882
At the time of the Tithes, Patrick was on a small 1 acre plot of land. It's no surprise his descendants moved elsewhere.
6) James and Rose from Donard.
Denis Heade b 1821, Donard. In Donard 1833 and 1834. Donard is just south of Blackhill/Fryarhill. Mar Anne Hayden. Ann probably owned dairy in Mary St, Rathmines 1851-72.

Thomas Heade b circa 1840. Mar Anna McCreadie Dublin 1860.

Patrick Joseph Heade b 1861
John Heade b 1864
Helena Heade b 1866
Mary Anne Heade b 1868
Denis Joseph Heade b 1870
Anna Christine Heade b 1872
Thomas Heade b 1875
Margaret Heade b 1880

Edward Heade b circa 1840. Mar Elizabeth Quinn in Dublin. Moved to Manchester.

John Heade b 1864
Elizabeth Ann Heade b 1875

Mary

William Hayde b 1822. William served in US army between 1849 and 1854. Mar Elizabeth Kelly circa 1845 then Mar Mary O'Connell/Toomey in Dublin in 1878 (as a widower). He was in Francis St, Dublin at the time of the 1851 census and ran a dairy in New Row West, Dublin 1859-1871.

Johannes b 1847
William b 1849
Catherine b 1856
Rosanna b 1860
William Hayde b 1877
Mary Teresa Hayde b 1879
Richard Hayde b 1882
Stephen Joseph Hayde b 1885. D 1886

Mary Heade b 1823, Donard
Richard Head b 1824, Ballymooney (village north of Donard towards Scalp)
James Hayd b 1828
The comprehensive summary of parish and civil records for these families can be found at Kildare and Wicklow Families
The tree for this branch of the family can be seen at https://www.ancestry.com/family-tree/tree/51528839/family