As described in the Irish Research page, the tax records of 1666/7 showed a James Head at Rathdangin in the parish of St Patricksrock, Fethard. Rathdangin and St Patricksrock are suburbs of Fethard.
Fethard is in the barony of Middlethird which in the 1659 census only showed 8 Headen and 5 O'Hea families.  They were either counted as part of the O'Hea numbers or ignored due to their low usage.
By 1766, an Edm Head was in the village of Killusty in the parish of Kiltinan, Fethard. He is probably a descendant of the family in Fethard in 1666. It is also possible that he came from parishes further north however my current assumption is that they are linked.
Killusty is South West of Fethard as shown below: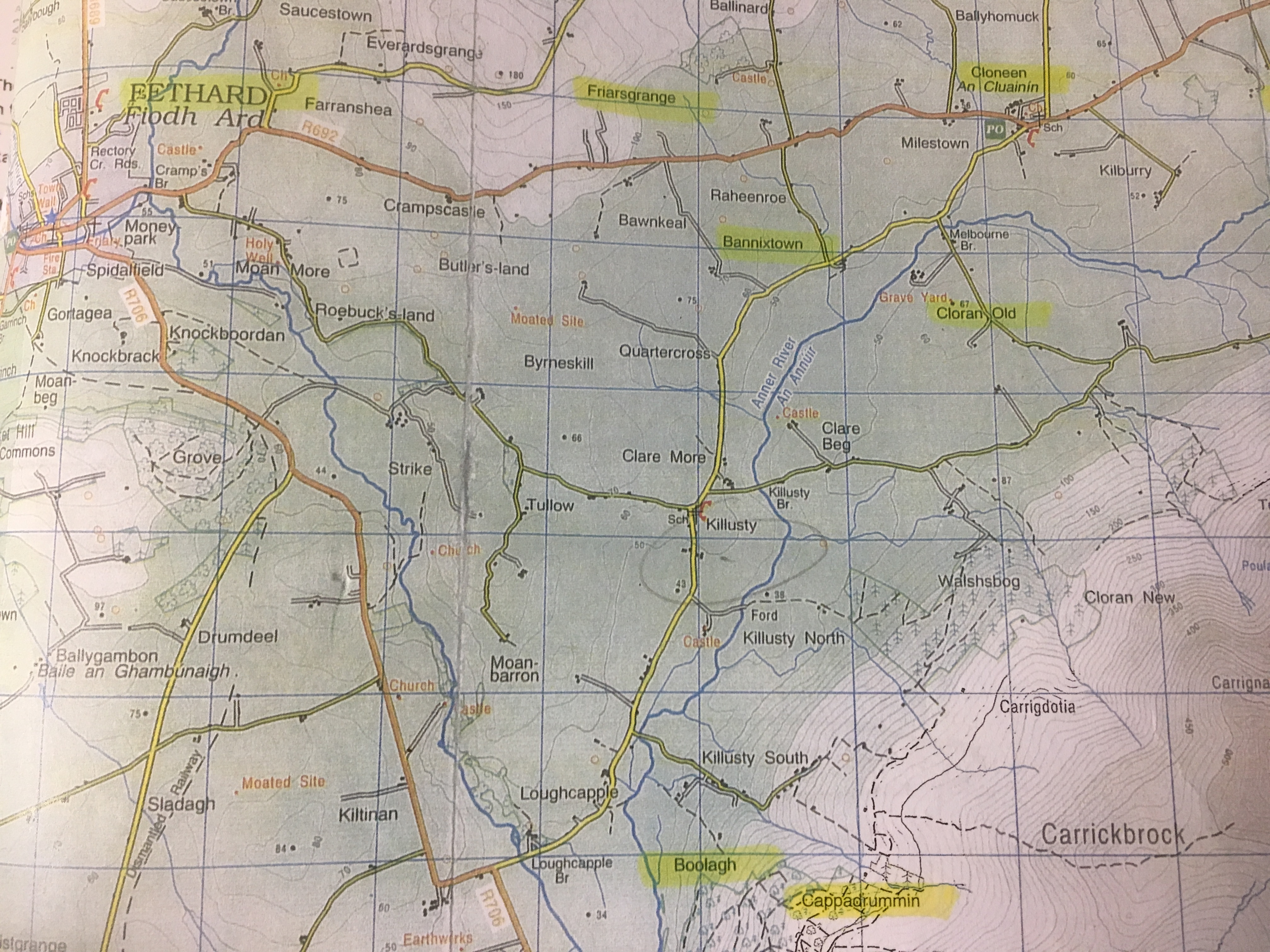 This family posts section focuses on the families around the adjoining parishes of Drangan, Mullinahone and Fethard.
Drangan
In the early 1800s, when the Catholic parish records began, the following families were in the Drangan and Mullinahone areas:
Michael, who was at Cappadrummin (also spelt Cappadroma) in 1828 (by Kiltinan)
Edmond, who was at Cloran in 1830
William, who was at Knockelly in 1833
Also at Cloran at the same time as Edmond was James. He didn't feature in the Tithe records so must have been with Edmond on the 19 acres that Edmond farmed. They were probably brothers.
A John Head/Hayde was in Bannixtown in the 1830s and 1840s.  This village is nor far from Cloran and he may be another brother of Edmond and James. I have not found any trace of descendants of John.
Cloran and Cappadrummin are all close to Killusty in the Fethard parish as can be seen from the map below while Knockelly is a bit further North.
By the 1850s, a John Hayde was at Graigue, a townland further south from Killusty, around the mountain of Slievenamon, by Kilsheelan.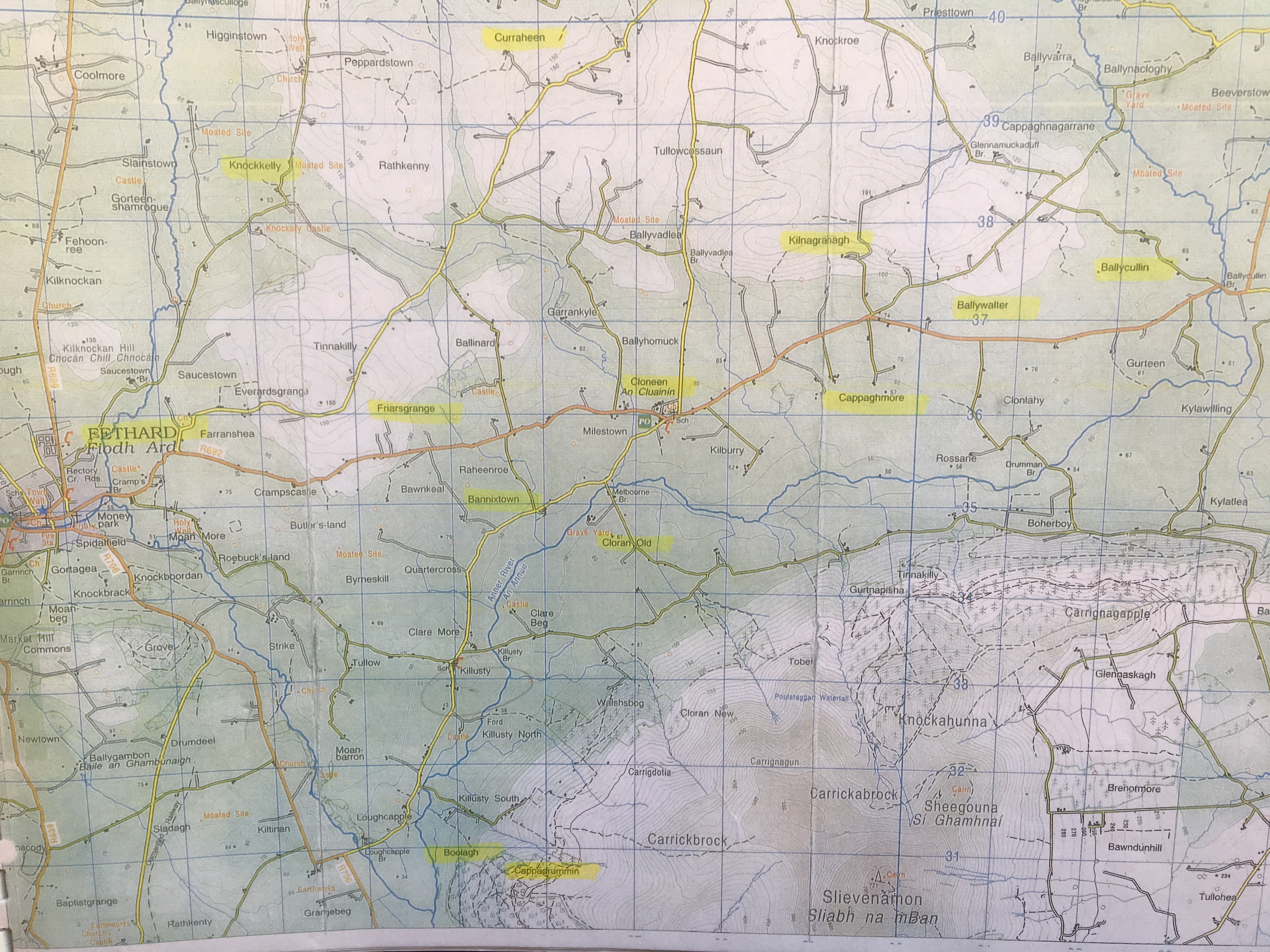 Michael and Mary Gorman.
They married 1813 in Drangan parish and both were recorded as from Killusty. Michael was actually called Edmd in the marriage records although all the baptisms referred to him as Michael. He is probably a descendant of the Edm who was in Killusty in 1766. They had the following children:
James Head b 1816. Mar Mary Doran 1843 as Hayde from Cloran.

James Hayd b 1843, Drangan.
Bridget Head b 1847, Drangan. Mar Vermont 1871
Robert Hayde b 1845, Corbally. Mar Mary Mahoney. Corbally is a village a mile North East of Drangan. In the 1880s they were living in Fethard.

Mary Hayde b 1866. Mar 1892
James Hayde b 1869. He joined the Militia in 1887 at Clonmel. He later served in the Royal Irish Rifles. Mar Mary Mitchell 1899. They emigrated to New York on the Oceanic in March 1900. He was a shoemaker/bootmaker.

James Hayde b 1902
Ann Hayde b 1904
Mary Hayde b 1906
Robert Hayde b 1909

Alice Hayd b 1870. Mar 1898
Catherine Hayde b 1872. Mar 1918
John Hayde b 1874. He joined the army Militia in 1891 at Clonmel. Mar Johanna Whelan, Clonmel 1907 and was still there in 1911.

Margaret Mary Hayde b 1909

Bridget Hayde b 1876
Unknown female b 1880. Mar 1896
Ellen Hayde b 1882

Anne Head b 1817
Timothy Head 1820
Ellen Head b 1823
Mary Heade b 1826
Michael Hayde b 1829
Bridget Heade b 1832
Cath Hayde b 1835
Judy Hade b 1836
James, Anne, Timothy and Ellen were baptised in the Drangan parish while the later children were baptised in the Fethard parish records. In the 1830s the parish records described them as being from Cappadrummin and is where Michael Heade was recorded in the Tithe records as farming 2 acres in 1828.
Edmond and Margaret English. They had:
Mary Head b 1814
Judith Head b 1816
Bridget Headin b 1819
Thomas Head b 1822
John Head b 1824
Margaret Head b 1825
Ellen Hayde b 1828, Cloran
Edmond was in the Tithe records of 1830 as Headd. He was farming 19 acres at # 25 and the English family were at # 33.
Edmond died 1834 and left his estate to Margaret. Mary (nee Gorman) was the householder on this property in the 1840s but she had gone by 1849 and there is no family presence here in the 1850s.
James and Mary Fitzgerald. They had:
Mary Head b 1815
Richard Head b 1818. Mar Mary Shea 1842

James Head b 1842, Kilnagranagh
Patrick Head, b 1844, Cloran. Mar Bridget Lee, Bennington, Vermont, USA, 1872. Patrick arrived in 1871 according to his Naturalisation records although there is no surviving immigration record, and he was Naturalised in 1873. There is no obvious 1880 census record for them. The 1900 American census showed Bridget as having 6 children with 3 living at that time.

Mary Hayde b 1873 Brooklyn
Edward Hayde b 1876 Albany
Margaret Hayde b 1878

Richard Head b 1846, Kilna. Mar Margaret Kenny. Richard died in 1927 and left his estate to his daughter Mary.

Mary Hade b 1887. Mary died in 1945 and left the estate to a non family member.
William Hade b 1889. He died in 1942 and he left his estate to a non family member.

Mary Head b 1849, Kilna
Margaret Head b 1852, Cappaghmore
Thomas Hayde b 1854, Cappa. Died of a disease of the lungs in Cashel Workhouse in 1878.
John Head b 1857, Cappa. John probably lived on a small plot at Kilnagranagh (12B) until he died in 1939.  There was no record of a marriage or children in the civil records.
Mary Hayde b 1860, Cappa

Anne Head b 1821
Bridget Head b 1824. Mar William Keevan 1846
Thomas Hayde b 1829
Patrick Hayde b 1832, Cloran. Mar Johanna Lyons.  This is Tree # 11. Descendants are discussed more in the Connecticut Posts and the tree can be seen at https://www.ancestry.com/family-tree/tree/51523823/family
James was not in the Tithe records and was probably with Edmond in Cloran.
William and Alice Delaney.  They had:
Margaret Head b 1817
Bridget Head b 1818
Edmond Head b 1824
William was in the Tithe records of Knockelly as Hayde. They must have had more children as a Thomas Hayde was on this land in 1846 until 1882.
In the 1860s Thomas was before the courts on a number of petty crimes and a Judith Hayde was a witness on one occasion.
John and Margaret Burns, at Kilsheelan, Graigue
Michael b abt 1807. Mar Margaret Barnable in 1857 as Heade and emigrated to America as Hade in 1857 and settled in Hatfield, Hampshire, Massachusetts. They were Hade in 1865, 1870, 1880 and 1900 but Margaret (senior) was Hayde in 1910. In 1900, Margaret was a widow. She arrived in 1857 (presumably with Michael) and had 11 children with 3 living. I have not found their arrival or naturalization. Michael was also recorded in the Draft Registration records in 1863. Their children were:

Margaret b 1861
Anna/Fanny b 1862
John b 1864 (not in 1870 census)
Teresa/Tracey b 1866
Kate b 1867
Mary b 1868, married Sweetland
Alexander b 1872, d 1890
Catherine B b 1875
Michael T b 1878, d 1888
ANO
ANO

John Hade b 1842
In the 1849 valuation records, the widow Catherine Hade was at Graigue Lower while in 1846 a Patrick Hayde was a Modeshill (Sankey) – by Graigue. I am not sure how these are connected.
Fethard

There was no sign of any relatives in the Tithe records of the 1830s however by the time of the Griffiths in 1850, a Michael Hade was in Cashel St, Fethard.
Michael and Anne Sweeney. They had:
Judith Hayde b 1835
Mary Hade b 1837
William Hade b 1839
Patrick Hayde b 1841
Lawrence Hayde b 1843
Alice Hade b 1846
Michael presumably descended from…..
Robert (b 1845, son of Michael and Mary Gorman from Drangan above) and Mary Mohoney were ……..
Also in the Fethard parish were:
John and Ellen Bergan. They married as Heade in 1826 and had
John Hayde b 1826. John probably joined the RIC and established Tree # 8.  This tree is outlined further in the Naas and Dublin posts page.