There was no sign of Hayde (or anything similar) in this area in the 1659 census or the 1664 Hearth Money Records.
The original Hearth records were destroyed in the Four Courts fire of 1922.  Transcripts from the Kilkenny area are in the St Kieran's College, Kilkenny and have been reproduced in the Irish Geneologist in 1974 and 1975. These records show various Hayden, Headon, Headon families but not anything like Heade, Hayde, Haide. These entries were also in different locations to where the Heade etc families appeared in the 1800s so I believe are not related.
The Tithe records are therefore the earliest available records. These records showed families in two areas:
Lisdowney Parish (1830)

Nicholas Head on 0a 2r 16p at Seskin (Aharney). I have not been able to locate Nicholas in the parish records
Martin Head on 1 acre at Lisdowney, Aharney. I have also not been able to locate Martin in the parish records.
Urlingford Parish (1820)

James Head on 1a 2r 16p at Tubbrid. Mar Catherine Drisdale
Edmond Head at Carranconnell. Mar Ellen Lahy
James and Edmond were both Tithe defaulters.
The Griffiths records of 1849 showed:
Lisdowney Parish
Thomas Hayde on 0a 0r 16p at Frankfort or Ballykieran. Mar Mary Bergan
Mary Head on a very small plot at Lisdowney.
Urlingford Parish
Thomas Head at Tubbrid Lower. Mar Mary Dowling. Son of James. They were on 3a 1r 19p owned by Arthur St George Esq, who was descended from Lt Arthur St George an officer in the Cromwellian army.
Edmund Head at Craddockstown. Mar Ellen Lahy. They were on 2a 0r 21p owned by John Leahy.
John Hade at Urlingford. Mar Margaret Kean. They were on 1a 2r 16p of land owned by Viscount Mountgarrett. He owned 20,000 acres in 1640 and was the second largest landowner, behind the Earl of Ormond, at the time.
Lisdowney – Frankfort/Ballykieran and Foyle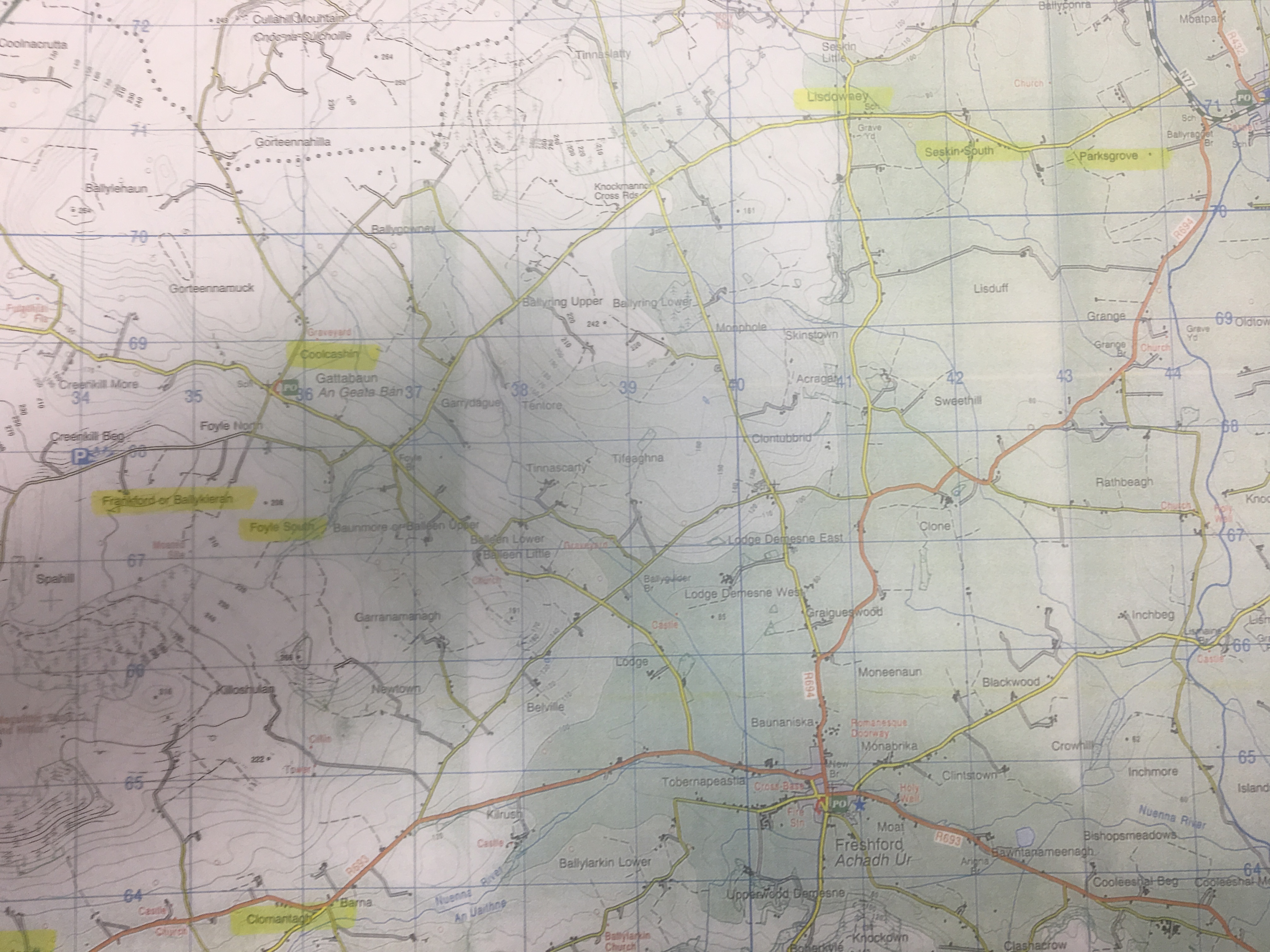 The families in this area were:
Edmund Head (b circa 1750) and Judith
Philip and Catherine Magher. Mar 1778, from Skinbutler, Aharney


Mary Heade b 1814, Aharney.
Thomas (b circa 1795) and Mary Bergan – Frankfort in 1849

Cath Heade b 1818, Whitegate. Mar Wiley
Alice Heade b 1820, Whitegate. Mar Martin Dunn 1853
Edward (b circa 1800) and Cath Farrell
James Heade b 1821, Parksgrove. Pos married Mary Hackett – see below
Elizabeth Heade b 1824, Parksgrove
Anne Head b 1825, Parksgrove
William Head b 1826, Parksgrove
Philip (b circa 1820), from Ballygowney, mar Catherine Butler 1843
Thomas Head b 1843, Ballygowney
Mary Heade b 1851
Bridget Heade b 1853
Philip Heade b 1856. Single in 1901
James (b circa 1830) mar Mary Hackett Gortnahoe parish, 1858
Thomas Heade b 1858, Whitegate. Mar Mary Hogan
Mary Heade b 1859, Whitegate
Margaret Heade b 1861, Whitegate
James Head b 1863, Whitegate
Philip Haide b 1866, Balleen. D Urlingford 1891
Michael Heade b 1868. A carpenter. Mar Julia Walsh. Julia emigrated with her sister in 1904 after Michael died in 1902. Her son stayed in Urlingford.

James Hayde b 1898, Johnstown. In 1901 was living with his uncle, James in Urlingford. He visited his mother in America in 1921

Catherine Heade b 1870, Whitegate
John (b circa 1840), from Foyle mar Margaret Dalton 1861
Thomas Head b 1862, Whitegate
James Heade b 1864, Foyle
John Heade b 1866, Foyle (Balleen). Mar Ellen Doran 1898

William Hayde b 1899, Clomantagh
Margaret Hayde b 1901. D 1909
Mary Hayde b 1903. Emigrated to Canada 1930
John Hayde b 1905. D 1977. Lived in America
Thomas Hayde b 1907. Descendants are in Dublin and Urlingford
Michael Hayde b 1909. D 1928
James Hayde b 1910
Edward Hayde b 1912. Descendants in Urlingford and Dublin

Catherine Heade b 1871, Foyle
Urlingford – Carranconnell, Craddockstown, Woodsgift and Tubbrid

The families in this area were:
James (b circa 1790) and Catherine Drisdale
Joanna Heade b 1808, Tubbrid
Thomas Heade b 1811, Woodsgift. Mar Mary Dowling 1844. Griffiths 1849

Cath Head b 1845, Graine
James Hade b 1847, Tubbrid Lower
Bridget Hade b 1851, Tubbrid
Mary Hade b 1859. Knocknamuck
Elizabeth Hade b 1861, Knocknamuck
Thomas Hade b 1864, Knocknamuck
Edmond (b circa 1810) and Ellen Lahy – Craddockstown 1849

Margaret Heade b 1831, Craddockstown
William Head b 1832, Craddockstown. Mar Mary Cass 1864 as Hayde. William and Mary emigrated to America with their children in 1880. They are described further in the Massachusetts Posts page.

Edward Head b 1865. Died Phil, USA 1935
Mary Heade b 1866, Woodsgift
John Heade b 1870, Urlingford
James Heade b 1871, Woodsgift. D 1872
Sarah Heade b 1873, Woodsgift
Catherine Heade b 1874, Carranconnell
Patrick Heade b 1876, Darbyshill
Sarah Heade b 1879, Darbyshill

James Head b 1834, Craddockstown
Kitty (Catherine) Heade b 1835, Craddockstown
Ellen Heade b 1838, Craddockstown
John (b circa 1820) and Margaret Kean – Urlingford 1849

Richard Hade b 1841, Urlingford
Catherine Head b 1843
Michael Heade b 1845, Urlingford
The detailed records from this area are at Urlingford, Kilkenny Families