The name Kilkenny is an anglicisation of a Gaelic name that translates as the Church of St Canice. It was the site of Catholic worship established by St Canice in the sixth century.  It is in the northern part of Kilkenny city known as Irishtown as can be seen from the 18th century map of Kilkenny City below.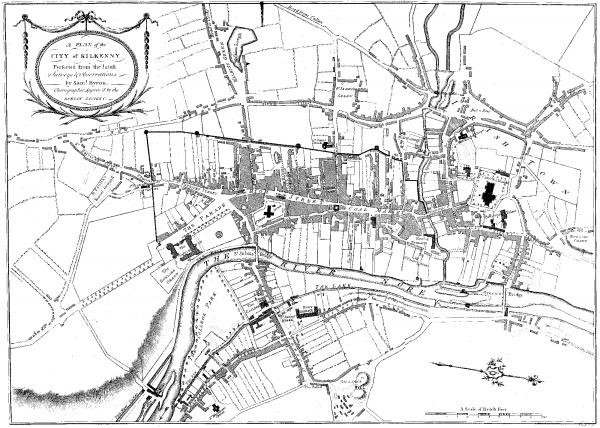 The first census of Ireland in 1659 did not show any records with relevant surnames in Kilkenny. The same applies to the Hearth Money Records of the late 1600s.
The records of early wills showed that a Michael Heade from Irishtown died in 1739 and left his estate to Mary Heade, a widow (presumably his wife).
Irishtown was quite separate from the rest of Kilkenny in the 16th century.  It had its own walls, its own Corporation and its own laws.  It was the oldest part of the city and it is the area to the north of the river running through the centre of the city.  To the south was St Mary's and to the east was St John's parish.
St Canice (inc Irishtown)

The Catholic parish records for St Canice started in 1768.  I have searched these and have found the records of a James and Mary Whelan in the 1850s that also featured in the Griffiths survey of 1849 (as Hade). They were living at Butts Cross, an old part of the parish where traces of other ancestors living in Butts went back to 1816.  Descendants from this family, using the Heade variant, emigrated to America in 1870. I have lost track of them after 1920 and have not found a living descendant.
A Michael Hayden was in the 1827 Tithe records for Butts Cross.  The parish records show various Head, Hayd and other variants in Butts Cross in the late 1700s and early 1800s.
James married Mary Whelan in 1840 and they had the following children:
Kath Hayde b 1841, Granges Road
Mary Heade b 1843, Butts
William Head b 1845, Dorans Lane
Judith Head b 1847, Granges Road
Ellen Heade b 1852, Granges Road
James Hade b 1855, Granges Road
James died around 1869 and Mary took the surviving children to America in 1870. They settled in Woodbridge, Middlesex, New Jersey. They have adopted Heade.  This is Tree # 20 and is described further in the New Jersey posts page.
Butts Cross is shown on the map below:
St Mary's
The parish records for St Mary's started in 1754 and I have found two families in these records in the late 1700s.  These were:
1) Henry Hayde, his wife Mary Mauris and children with births recorded as Hayde. One of the children, Richard, joined the army in 1790 and later fought at Waterloo.
2) Patrick Heade who married Catherine Carroll in 1777.  However I have found no trace of children.
Patt and Robert Heade, both flour manufacturers from Kilkenny City, signed the Oaths of Allegience to the King in 1779.
St John's
St John's records started in 1809 and these showed a number of Hayde/Haid/Haide births and marriages in the mid 1800s.  I have traced descendants to 1911 Kilkenny City census records where they were using Haide and Hade surnames. The family can be summarised as:
James and Margaret Dowling and then Margaret Knaresboro from 1847:
Patrick – see below
Michael – see below
Johanna Hoyd b 1842, Whitehouse Road
James Hoyd b 1848, Whitehouse Road.
Joanna Hoyd b 1849, Whitehouse Road
Patrick (as per James's marriage records)
James Hayde b circa 1865. A stone polisher. Mar Johanna Kavanagh in 1885

John Hayde b 1888, Walkin St. D 1888
James Haide b 1890
Joseph Haide b 1893
Thomas Haide b 1893. Joined Irish army 1922
John Haide b 1895. D 1896
Johanna Haide b 1901
James Haide b 1905. Joined Irish army 1922
Descendants are in Clogheen and have adopted Haide.
Michael (as per Thomas's marriage record):
Thomas Haide b 1861. Mar Ellen Johnson (d 1896) in circa 1880 then Jane Buckley in 1901.

Mary Jane Hayde b 1881, Walkin St
Johanna Hayde b 1882, Mandlin St
Elizabeth Hayde b 1884, Mandlin St
Catherine Hayde b 1887, Mandlin St
Ellen Hayde b 1888, Mandlin St
Hannah Hayde b 1890, Mandlin St.
John Haide b 1904
Anne Haide b 1907
James Haide b 1909
Teresa Haide b 1912
Anastasia Haide b 1914
Mary Haide b 1920
Joseph Haide b 1923
Descendants are in Kilkenny. They adopted Haide.
Thomas was a drummer in the Kilkenny Militia in the 1880s. Thomas joined the Militia again for 4 years at Wexford in 1900 aged 39 years 7 months.  He was then living at St Mary's, New Ross, Wexford.  He was a musician and was a widower with 2 girls.  He had previously served 12 years with the Royal Irish and had been discharged in 1897. He was 5ft 4 ½ inches tall, fresh complexion, grey eyes and dark hair. He was discharged in 1908 and his character was noted as being very good.
In the valuation records they were in Walkin St Upper, Guard Lane and Mandlin St, the same places as Thomas and Ellen and James and Johanna.
I believe these families originated in Butts Cross in the St Canice parish and are related.
The detailed notes on the research in this area can be seen at Kilkenny City Families