Thomas and Patrick Hayde
The tax records of 1666/7 recorded a James Head from Kilballyherberry, Ballysheehan.  He was probably one of the 10 Heade (and variant) families recorded in the area at the time.
The Irish Research page explains these families in more detail.
By the time of the religious census in 1766, the two families in this area were Philip and Maria Kearney and John and Maria Monaghan. These two couples both had large families that were baptised in the Killenaule parish records that started in 1742.  However I can only find the descendants of Philip and Maria in these parish records. They were recorded as Head in the census records and Head and Heade in the parish records.
By the time of the tithe taxes in the 1820s, the descendants in the area were Thomas Hayde and Cath Kivane and Patrick Hayde and Cath Kelly both farming at Killhill, Kilballyherberry.  They were both grandchildren of Philip and Maria.
Thomas married Cath Kivane circa 1803 and Patrick married Margaret Kirwan in 1811 and then Cath Kelly in 1813. They both had families at Killhill between 1810 and 1840.
In 1827, Thomas and Patrick  were both farming on land owned by The Estate of Oliver Latham Esq. Patrick had a plot of 3a 1r 0p and Thomas's plot was 3a 3r 0p. They both defaulted on these tithes in the 1830s and were not on this land in the 1850s. I suspect they were evicted in the late 1830s/early 1840s after they both defaulted on paying their tithes (taxes).
The parish records also show many other family members in this area in the early 1800s.  These are summarised at the end of this page. There is also avery close link between these families and those in Ballinure, Noan and Killenuale which are outlined on separate pages.
The 1850s map of the landholdings of Kilballyherberry parish is shown below: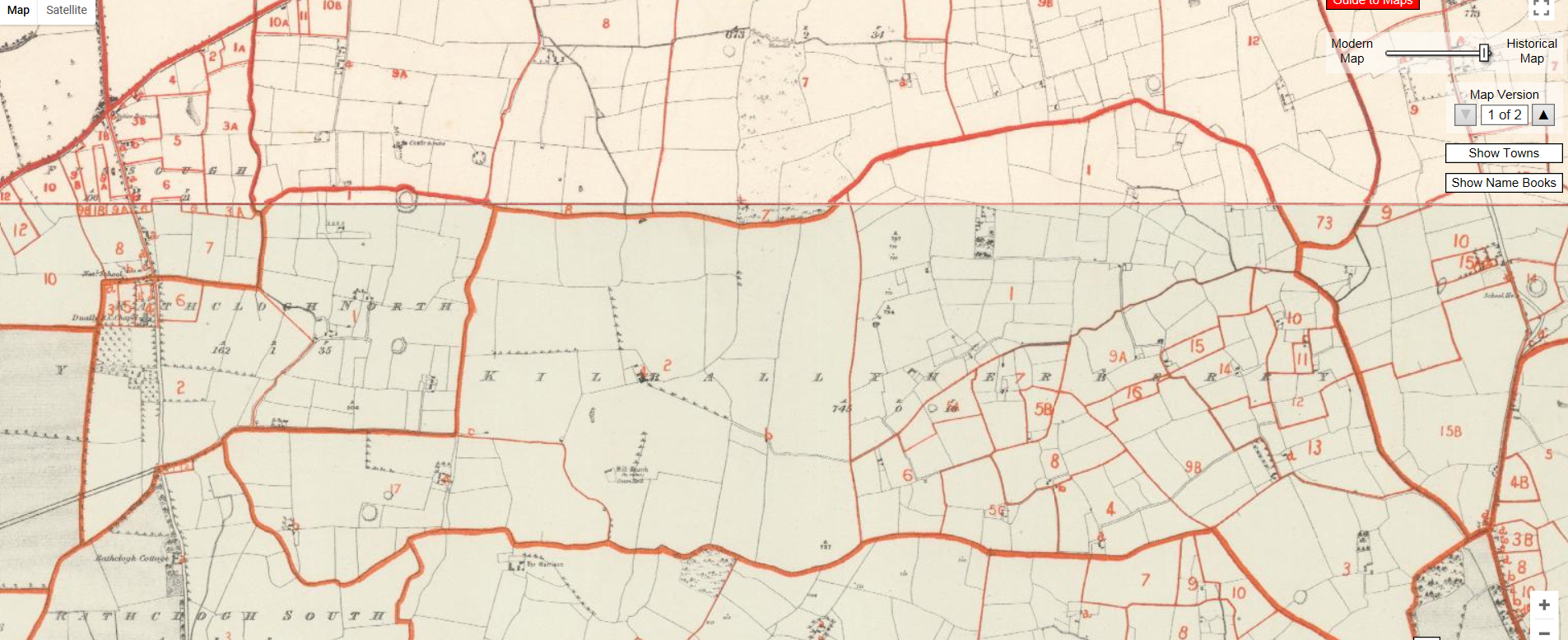 Killhill is the hill, shown as 794ft (241m) high towards the middle right of the parish map. The area shown as reference 1 in this map (which included Killhill) was a 24 acre plot farmed by Thomas Hogan in the 1850s.  In the 1820s Thomas Hogan farmed 14 acres, with Patrick, Thomas a some other small holders as neighbours.  I suspect the Hogan family consolidated their holdings after Patrick and Thomas left their small plots.
Killhill is now a wind farm as can be seen from the photo below: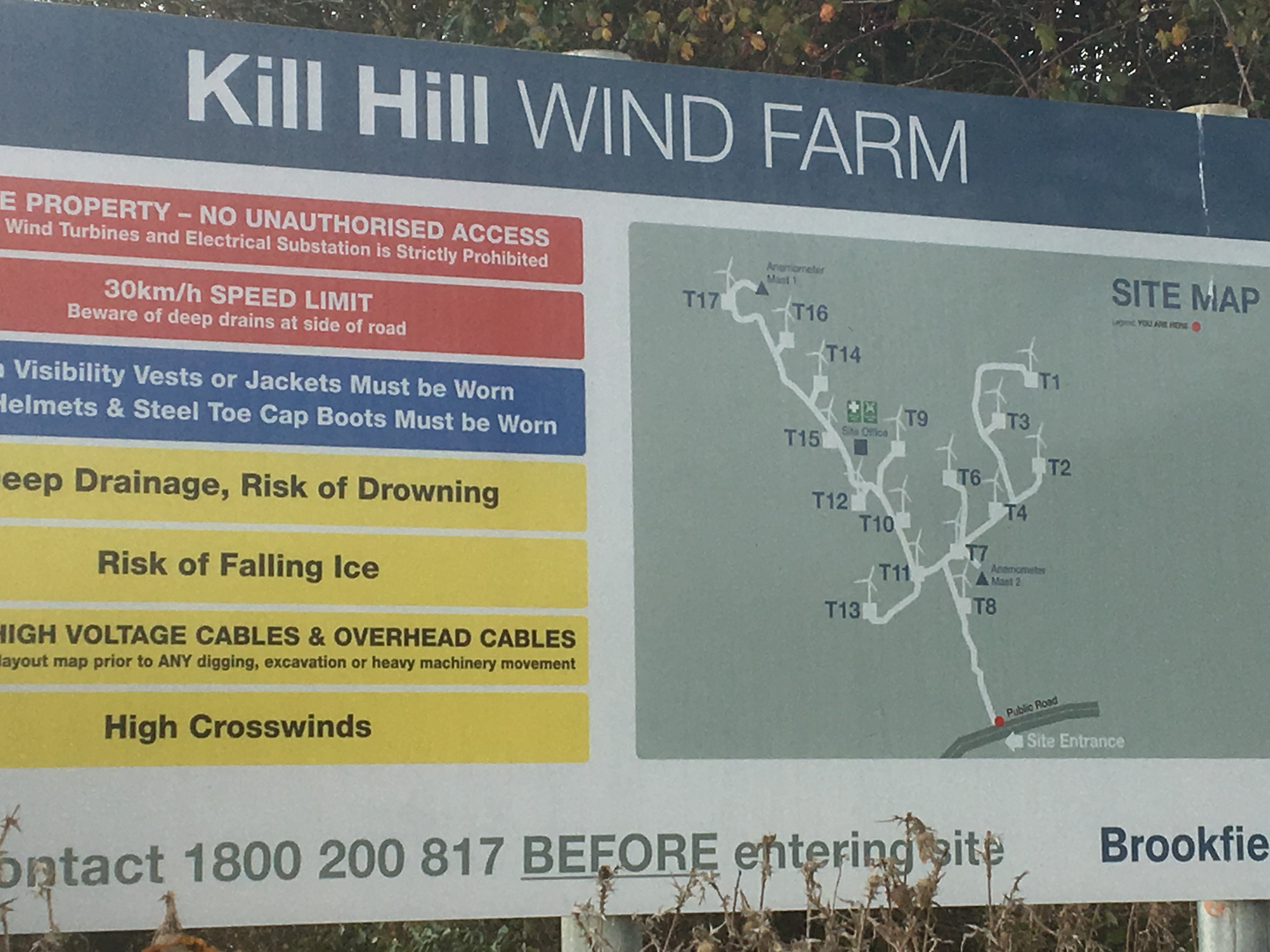 Killhill is shown in the photos below.  They were taken on a foggy day in November 2016 and probably reflect what life was like in the early 1800s on this hill.
This photo is from Killhill at the point where I think Thomas and Patrick had their plots.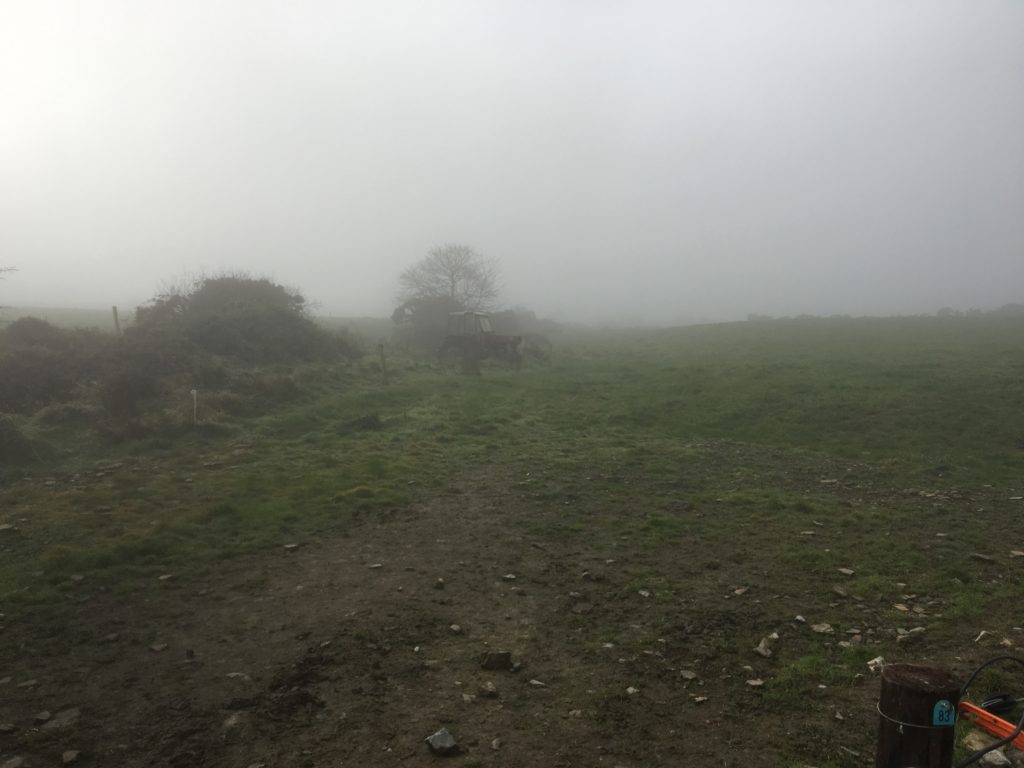 This photo shows the view from Killhill down towards Ballinure.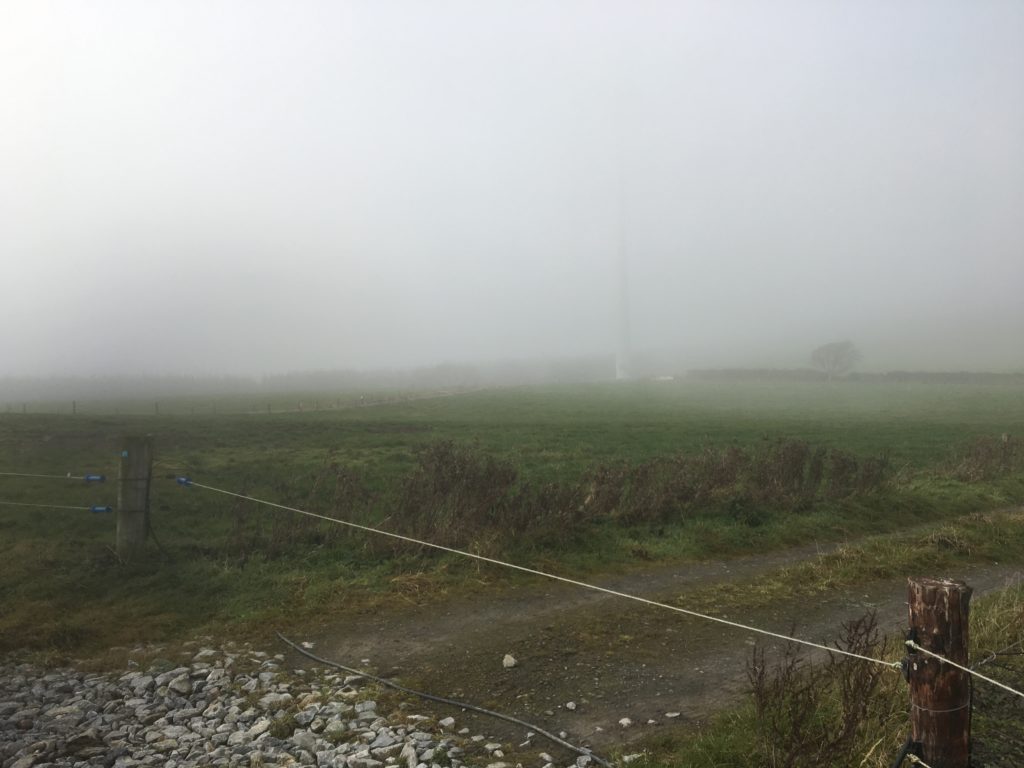 The eldest son of Thomas and Cath's was Patrick Hayde (b 1803). He married Margaret Farrell in Carlow in circa 1840 and immigrated to London in the late 1840s during the potato famine.  One of their sons (the only child to live long enough to have a family) joined the British army.  He went to India with the army where he married and had a large family.  Descendants live in England, India, Canada, Australia and New Zealand.  This is Tree # 1 and is described in more detail in the New Zealand and India posts page.
Other sons moved to Ballinure and descendents are in the Ballinure/Cashel area. These families, and other descendants from the Killhill families are Tree # 10 and are described in more detail in the Ballinure posts page.
Records in London in 1870 (relating to Patrick b 1803) indicate that Thomas and Cath had died by then.  Given that Patrick could not read or write and had left Ireland by the late 1840s, I suspect they may have died by the time Patrick and Margaret left Ireland. By the 1840s they would have been in their 60s, which is much longer than life expectancy at the time
The early members of these two families can be summarised as:
Philip and Maria Kearney
John Heade b 1745. Mar Cath Kennedy

Catherine Head b 1771
Anastasia Heade b 1786

Michael Heade b 1747. Mar Cath Nagle

Philip Head b 1786, d 1788
Thomas Head b 1788. Mar Cath Kivane – Killballyherberry in 1827

Patrick Hayde b 1803. Mar Margaret Farrell – Tree # 1

Edward Hayde b 1848
Margaret Hayde b 1849
Patrick Hayde b 1853
John Hayd b 1855

Mary Heade b 1811
Cath Hayde b 1813
Edmond Head b 1815. Mar Mary Barry then Mary Bulfin later in life- Tree # 10. # 9d, Noan (Piercetown) 1850


Catherine Hayde b 1844, Piercetown (Noan)
Thomas Hade b 1846, Piercetown. Married Margaret Russell 1868. Descendants in Ballinure. See the Ballinure posts page for more detail.
James Hade b 1849, Ballinure
Michael Hayde b 1853, Ballinure
Joanna Hayde b 1854, Ballynaglaragh (Noan)
Martin Hayde b 1855, Piercetown
Mary Hayde b 1869, St Marys, Clonmel
Margaret Hayde b 1871, Garraun

Nelly/Ellen Head b 1818
Peg (Margaret) Head b 1821
Tom Heade b 1824
James Hayde b 1826
Michael Heade b 1826

Unreadable b 1749
Honoria Heade b 1752
Maria Heade b 1753
Catherine Heade b 1756
James Head b 1759. Mar Joanne Duggan

Joannes Head b 1790
Patrick Head b 1796. Mar Margaret Kirwan then Cath Kelly – Killballyherberry in 1827. Tree # 10

Margaret Heade b 1814.
Mary Head b 1815
Pat Hayde b 1819. Emigrated to America in circa 1847.  Lived Albany, NY State.
Margaret Hayde b 1824
John Heade b 1826. Emigrated to America circa 1850. Lived Albany, NY State.
Ellen Hayde b 1829
James Hayde b 1831. Emigrated to America circa 1853. Lived Albany, NY State.
Thomas Hayd b 1834

Bridget Head b 1799

Allina Head b 1762
Eliza Heade b 1766
Further information is provided on the families that settled in Albany in the Albany posts page.
John and Maria Monaghan
Ellen Heade b 1749
Margaret Heade b 1751
Richard Heade b 1752
Catherine Heade b 1753
Thomas Heade b 1756
Margaret Head b 1759
Descendants of the above are difficult to track from the parish records.
Other Hayde Families from this area
There are also other families in the parish records of the time that are related but the links are unknown due to the lack of paper records. These are:
Patrick and Judith Bradley
Martin Hayd b 1835, Killhill
Harry Hayd b 1837, Killhill
Thomas Hayd b 1839, Killenaule
Catherine Head b 1841, Ballynaglaragh
Patrick Hayde b 1844, St Peter and St Paul, Clonmel
Patrick is clearly descended from either Philip and Maria or John and Maria but the records are not clear on how. What the dates show however is that they had moved from Killhill sometime in the late 1830s. Ballinaglaragh is a sub townland of Noan, which is the area that the family spread to.  The last birth in 1844 reflects their movement further south. There is no trace of this family after these dates and I suspect they were either famine casualties or emigrated.
James and Mary Meagher/Maher – Ballinree in 1827
Tom Head b 1817, Leigh, Tipperary North
William Hayde b 1818, Ballinree
Nancy Heade b 1821, Ballinree
Mary Head b 1824, Ballinree
Jas or John Hayd b 1833, Ballinree
Ballinree is a townland to the north west of Dually bordering Ballysheehan.
Thomas and Mary Connors
Honnaria Hayde b 1841, Killhill. Married John Ware in New Brunswick in 1870.
John Hayde b 1844, Ballynaglaragh (Noan). Married Margaret Long in New Brunswick in 1870.
Michael Hayde b 1847, Curragh (probably Carrow, a townland north of Dually)
Like Patrick and Judith Bradley, Thomas and Mary also left Killhill and moved to Noan in the 1840s.  They clearly emigrated shortly thereafter as the children married in America in the 1870s.
How some of the early families in the area are all connected is not obvious from the paper records.  DNA testing however has shown that the families from Kilballyherberry, Ballinure and Noan have a common ancestor.
A map of the area showing Kill Hill and Ballinure marked is as follows: