A few Hayde families were in the area north west of Ballinure and Ballingarry by 1800. They were not in the 1659 census or 1665/6/7 Hearth Money Records so they must have originated from Tipperary south and moved to this area in the 1700s.
This families are grouped as Tree # 7 and are detailed at https://www.ancestry.co.uk/family-tree/tree/51257626/family
These families can be summarised as:
Kilduff
Patrick and Michael, born circa 1800, who were in Kilduff in the 1830s.
Their origins are unknown. They seem to have left the area in the 1850s and the descendants that have been traced settled in Middleton, England. They are described further in the Oldham and Middleton Posts page.
Mardyke
Patrick, born circa 1800, married Ellen and had a family in Mardyke in the 1820s.  A child was also baptised in Killenaule in 1836. They therefore have a link to this area which has been confirmed by DNA testing showing the similarities between descendants of this family and those from Killenaule area. Descendants settled in Oldham, England and are described further in the Oldham and Middleton Posts page.
James, born circa 1800, married Bridget Meagher and they also had a family in this area in the 1820s and 1830s.  Descendants settled in Rotheran and Bolton.
Edward, born 1811, arrived in Wigan before 1840 when he married Mary Morgan.
Thurles
Patrick, born circa 1790, and Judith Ryan.  They had a family in the Thurles area in the early 1800s.  A descendant has been traced to the Channel Islands.
Kilduff

In the 1830s, Patrick and Michael were in Kilduff, a town in the foothills of the Kilduff mountains north west of Templemore.There was no sign of this family in the Tithe or Griffiths records however in the Griffiths at Farenderra, Templemore were Tim, Mich, Pat and Thos Headen. It is possible that these families are linked.
The only hint of an origin is in an extract from the Walkers Hibernian Magazine from the Tipperary Archives.  It refers to a Miss Hayde from Kilduff, Limerick, who married a John Smithwick in 1791. She was the daughter of Richard Hayde from Castleleak, Tipperary. I have not been able to determine where Castleleak is.
Another possibility is that they were children of Pierce (Peter) and Mary Shanahan from Borris who had a Patrick and John Heade in Moycarky in 1801 and 1807 respectively.
Kilduff is shown on the map below: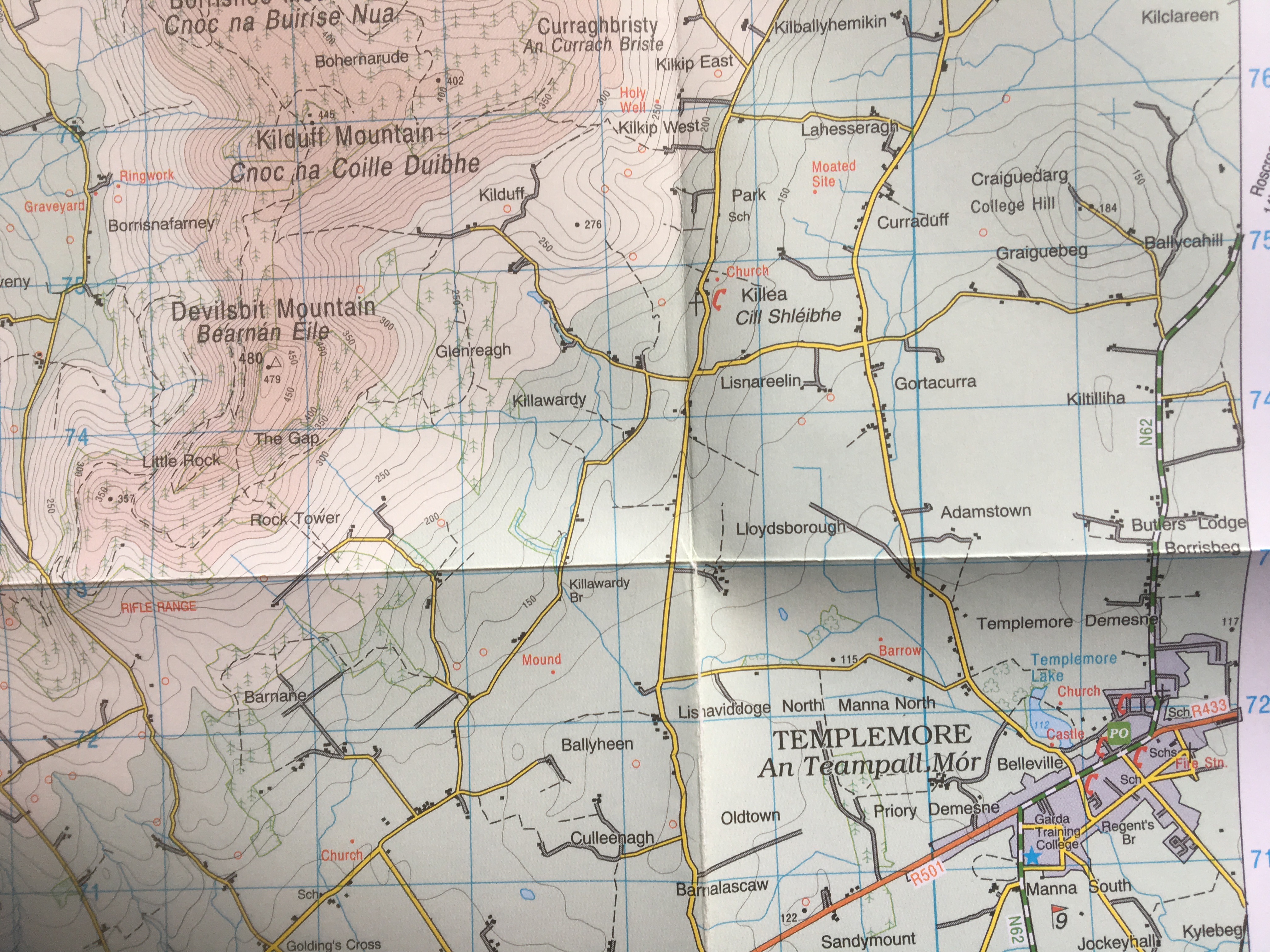 Patrick mar Mary Mooney (b 1804) in Drom parish, 1829. They were from Templemore. The marriage was witnessed by James Heade, presumably an older brother. The children were baptised in the Templemore parish.
Patrick seems to have died some time between 1847 (when his last child was born) and 1861 when Mary (his wife) and the surviving children were in Tonge, Middleton, Lancashire, England.
Nicholas Heade b 1831, Kilduff. D before 1861
John Heade b 1833, Kilduff. D 1898 Oldham
Patrick Heade b 1835, Kilduff. Patrick went to Ayr in Scotland looking for work and met a Lavina Kelly who he married in 1866. This family is outlined in more detail in the Middleton posts page.
Anne/Hannah Heade b 1837, Kilduff
Mary Heade b 1839, Kilduff
Pierce/Peter Heade b 1842, Kilduff. Mar Mary Premo. Peter emigrated to America in 1868, married in 1874 and settled in Detroit, Michigan. Their children are variously named Hade and Hayde. This is described further at the Detroit posts page.
Bridget Heade b 1844, Kilduff
Margaret Heade b 1847, Kilduff
Michael mar Mary Mahoney in Templemore parish in 1832. They were from Kilduff. Pat Heade (presumably the Pat above) was a witness.
Patrick Heade b 1833, Kilduff
Pierce Heade b 1834, Kilduff
Ann Heade b 1838, Kilduff
Mary Heade b 1839, Kilduff
Bridget Heade b 1843, Templemore
Michael Heade b 1845, Templemore
I have not found any descendants of Michael.
Mardyke (by Lickfinn and Knockadabe)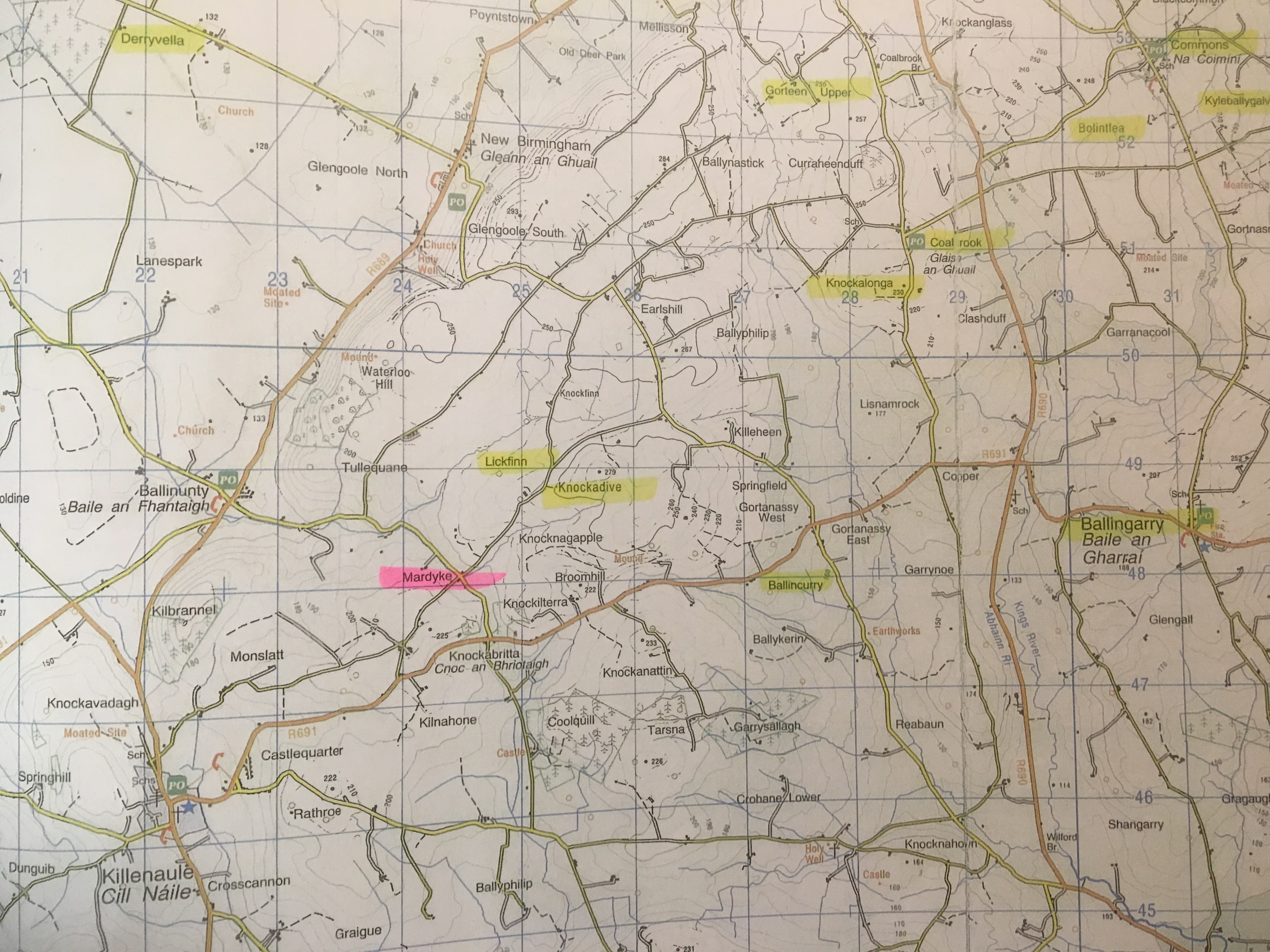 Patrick and Ellen
Patrick and Ellen (Doran/Dearan/Gorman) arrived in Oldham between 1829 and 1831 with 3 children.  They had a further 3 children in Oldham.  I found the baptism of the oldest child in the parish of Killenuale and Moyglass in 1836 where their residence was stated as Mardyke (I think they baptised an older child on a trip back to Ireland from Oldham).
There are many other Hayde/Heade families in this area being just north west of Ballinure and Ballingarry. Mardyke is a township just south of Templemore, which is not far from Kilduff.
Their children were:
William Hayde b 1822, Ireland. Mar Maria Murray

Mary E Hade b 1850, Oldham

Ellen Hade b 1827, Ireland
Mary Hade b 1829, Ireland. D before 1861
Patrick Hade b 1831, Oldham. D 1880
Michael Hade b 1834, Oldham. D before 1861
John Hayde b 1837, Oldham
This family is discussed further in the Oldham and Middleton posts page.
James and Bridget Meagher – Lickfinn in 1834 and 1850

Also in Mardyke in the 1830s were James and Bridget Meagher.  Their descendants were:
Michael Heade b 1826, Ballingarry parish. Lickfinn 1850
Tom Heade b 1828, Gortnahoe parish
John Hayde b 1833 Mardyke, Killenaule parish. John married Mary Murphy in Rotheram, Yorkshire in the 1866.  They had:

William Hade b 1868, Rotheram. Mar Annie 1906

Ernest Hade b 1908, Bolton. D 1911
Sidney Edmond Hade b 1909, Bolton. D 1929
John Hade b 1910

Catherine Hade b 1870, Rotheram
Mary Anne Hade b 1872, Rotheram
Mary Ellen Hade b 1874, Rotheram
Margaret Hade b 1875, Rotheram

James Hayde b 1835 Mardyke, Killenaule parish
Edward and Mary Morgan
Edward Hade (b 1811), son of John a gardener, arrived in Wigan before 1840.  He married Mary Morgan and had a son Peter in 1840.  By 1851 both Mary and Peter had died and he remarried, as Edward Hayde, a Margaret Conroy.
I have not found his Irish origins but I am treating him as connected to Tree # 7 in the absence of any other option.
In 1851 a John Gorman was staying with them.  This provides a link (tenuous) to Ellen Gorman who married Patrick above.
Thurles

Patrick and Judith Ryan
I have found the records of 3 children of Patrick and Judith Ryan from Thurles parish.  These are:
James Heade b 1808
John Hade b 1811. John married Mary Ann Campbell in Leamington, Warwickshire in 1837.  They had:

John George Hade b 1838, Leamington. Mar Caroline (Letitia) Holtom 1862.

George Hade b 1862, Leamington
Arthur George b 1865, Oxfordshire. D 1889
Mary Lydia Hade b 1867, Worcestershire
Elizabeth Hade b 1871, Worcestershire

James Hade b 1840, Leamington. Mar Sophia 1866
Thomas Hade b 1842, Leamington. Mar Isabella 1887
Mary Anne Hade b 1845, Leamington
Elizabeth Hade b 1850, Leamington

Patrick Heade/Hade b 1821. Patrick married Mary Roche in 1843 when he was living at Boolahaha, a village 5 miles to the north east of Thurles.  They had 2 children baptised in the Thurles parish and by 1851 they were on Alderney, in the Channel Islands.  One daughter, Mary Hade was in Warwickshire in 1881. This family is described further in the Channel Islands posts page.
The baptism of James in 1808 noted their address as New Street, which is probably in Thurles.
Patrick, the elder, was recorded as a clerk in 1808.  It is interesting to speculate what clerical work he was doing at the time and indeed how he managed to obtain the skills.
A Thomas Hayde from Littleton (b circa 1818 – 1823), joined the Dublin Met Police in 1850 (aged 27) and could also have been another son. He died a bachelor in 1864 (aged 46).
A Michael Hayde b 1829 joined the RIC and then the army in Dublin in 1850.  His army records stated he was born Moycarky parish, near Thurles. He served in the Crimean War in 1855 and retired to Dublin after 21 year service. In the 1901 census he was in Clonmel with his sister Catherine Ryan (a widow) and Catherine and Mary Roach (niece and grand niece).  Michael is probably related.
There is also a James Hayde who joined the RIC in 1849.  He was recorded as being born in Tipperary North in 1826.  He resigned in 1853 and emigrated to America. He traveled on Compromise from Liverpool which arrived in New York on 7 Sept 1853. I have however not found him in any American census or other records.
The detailed research notes can be seen at Tipperary North Families