James and Judith/Johanna Conway
As was mentioned in the Ballingarry posts page, James Hayde (b 1826) and Judith or Johanna Conway had 8 children in the Gortnahoe and Ballingarry parishes in Tipperary, Ireland in the 1820s, 30s and 40s. They were from the village of Lickfinn where they were also recorded in the Griffiths records of 1850.
Johanna and her children were in Chicago by 1870.  James I did not find in America and he may well have died in Ireland or in transit.
Lickfinn is marked on the map below: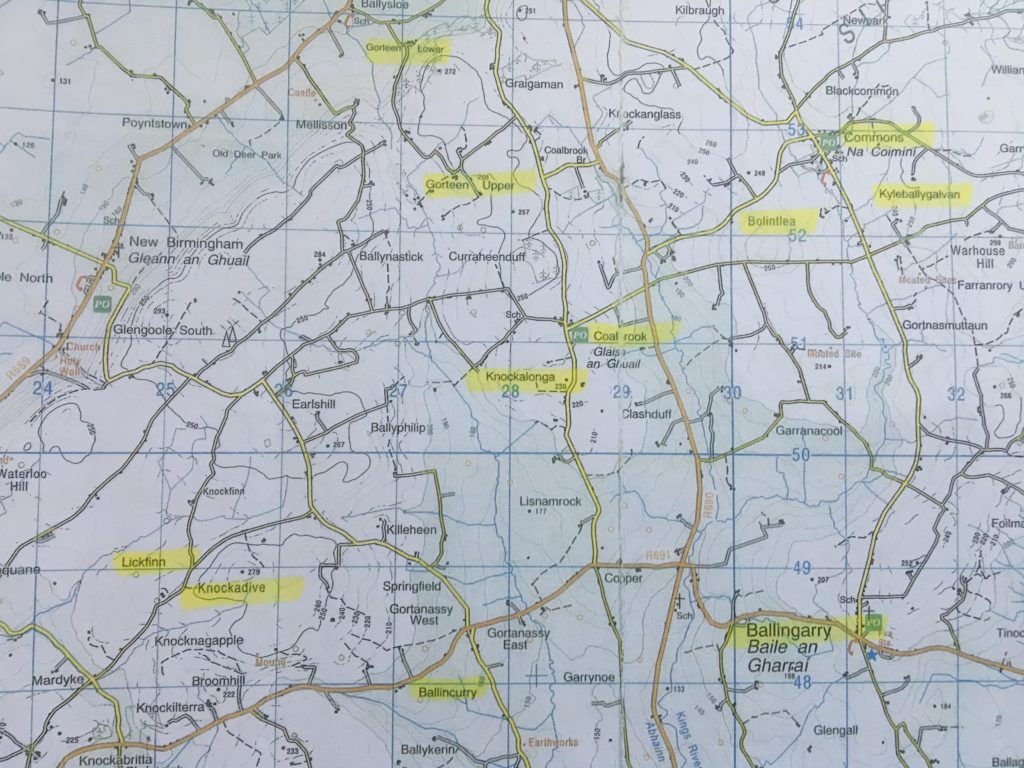 The parish records showed that James and Johanna married in 1826 and they had the following children:
Elizabeth (b 18 Jan 1827)
John (b 21 Sept 1828)
Margaret (b Oct 1830)
Mary (b 9 Nov 1832)
James (b 30 May 1834)
Edmund (b 28 Apr 1837)
Bridget (b 1841)
Ellen (b 1843)
The 1900 census described James as having arrived in 1854 and Edmund as having arrived in 1860 (presumably with Johanna and Ellen).  I have found no trace of John.
It was common for new settlers in Chicago to have initially arrived in Canada before moving to America.  However I have not yet been able to trace their arrivals in either Canada or America.
James was Naturalised in 1868 and Edmund in 1888.
They both married and had families as can be seen in the family tree at https://www.ancestry.co.uk/family-tree/tree/51471748/family
The families can be summarised below.
James (b 1834) and Elizabeth Coulter

James married Elizabeth Coulter in 1858 in Canada and they had 7 children. One son was a policeman and another established Hayde and Reilly, a drygoods firm. There does not seem to be a surviving male from this family.
Descendants are:
Elizabeth (b 1859)
James P (b 1861)
William C (b 1863)
John Wilson (b 1865)

James Henry (b 1888) (d 1895)
Daughter

Robert C (b 1868)
Helen (b 1870)
Mary (b 1872)
William (b 1863) died 1884. His obituary said he was from Tipperary.
Edmund (b 1837) and Catherine
Edmund married Catherine Moran circa 1865 and they had 10 children. 2 daughters became nuns and 2 others were school teachers. He was involved in one of the great historical events of Chicago because a business he ran of Hayde and O'Brien was destroyed in the Great Fire of 1871.
Descendants are:
Michael (b 1865)
James (b 1867)

James (b 1905)
Thomas Joseph (b 1908)
Two daughters

Mary (b 1868)
Ellen (b 1870)
Mary Ruth (b 1871)
Catherine (b 1873)
Alice (b 1876)
Evelyn (b 1879)
Mary and Mary Ruth became nuns.
Bernard
In 1860, a Bernard Hade was in New York having been naturalized in 1856. By 1880, a Bernard Hayde born NY was in Chicago.  This could be a son and there may be a connection between Bernard and James/Judith but any connection is as yet unproven.
Descendants are:
John Joseph (b 1875)
Bernard (b 1877)
John (b 1880) (d 1884)
I have not traced any descendants of any of these families and any further information would be welcome