Patrick b 1832 and Johanna Lyons
According to descendants, Patrick Hayde was born circa 1830 in Co Tipperary and emigrated to America in the early 1850s.
The most likely baptism record is that of a Patrick Hayde in the parish of Fethard, Tipperary in 1832. He was the son of James and Mary Fitzgerald. They lived in the village of Cloran, to the south east of Fethard. This family is explained in more detail in the Fethard and Drangan posts page.
By 1860 Patrick had married Johanna Lyons, they had started a family and were living in Salisbury, Connecticut.
The map below shows the city of Salisbury in the county of Litchfield in Connecticut State.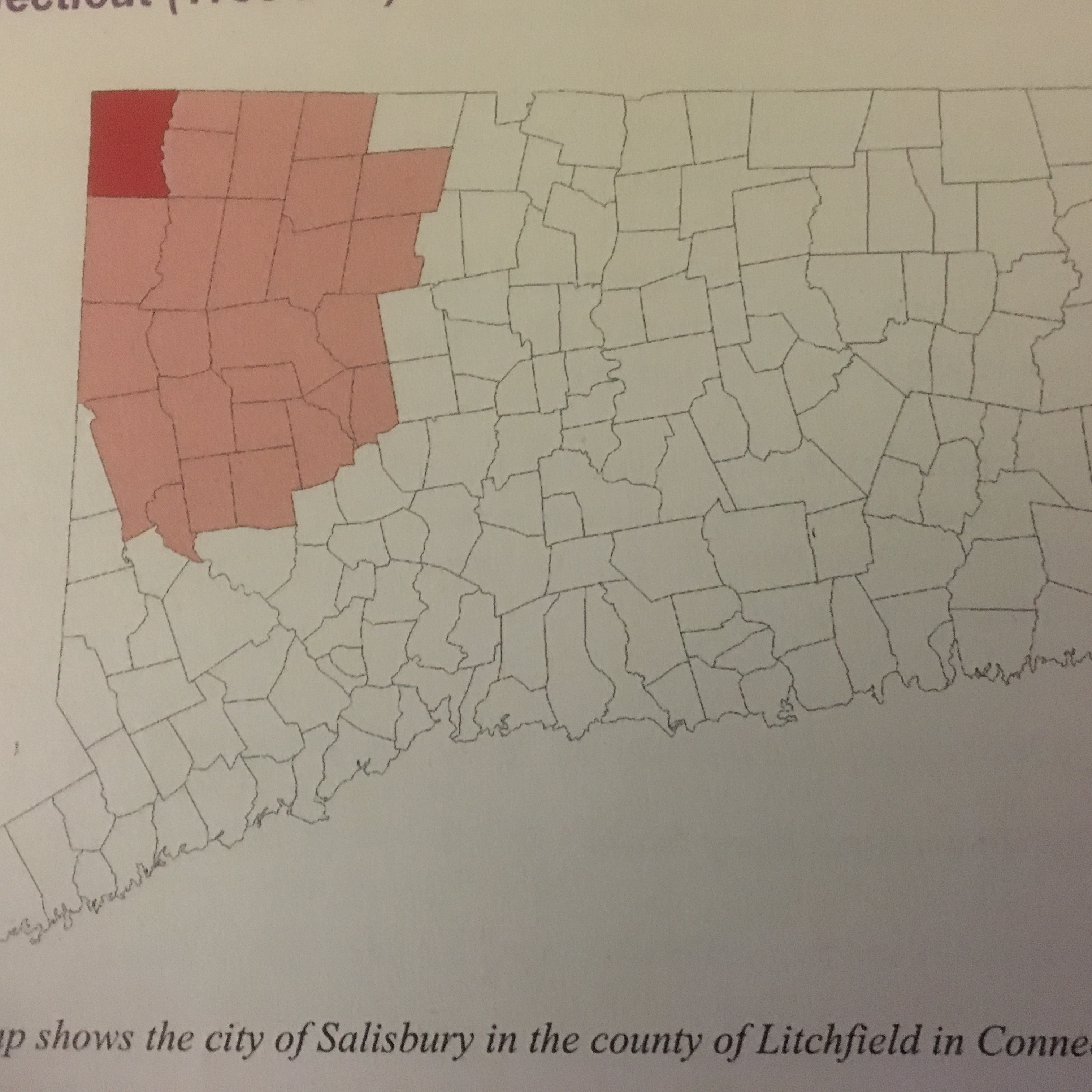 Patrick (b 1832) and Johanna (nee Lyons b 1835) were in the Salisbury, Connecticut 1860 census (as Haide) with their 4 children – John (b 1854), Lawrence (b 1855), Ellen (b 1856) and Mary (b 1856).  The children were all born in Conn. Patrick died in 1885 and Johanna in 1904.  The 1900 census recorded her as having arrived 1850. There are two arrival records in the name of Johanna Lyons around this time. These are:
At New York on 23 July1850 aged 20 (b 1830) on the Universe.
At Boston on 16 Jan 1850 aged 18 (b 1832)
Possible arrival dates in America for Patrick include:
As Patrick Head aged 23.  Arrived 1 July 1851 on Robert Kelly from Liverpool
Patt Head aged 30. Arrived 26 May 1851 on Harmony from Liverpool.  Place of origin stated as Tipperary.
The gravestones for Patrick stated that he was born Tipperary however the death certificate of his son Lawrence says Limerick.
John (b 1854) and Mary Rigler
John married Mary Rigler and they had 5 children John Francis (b 1883), Mary A (b 1886), Frank Joseph (b 1887), Johanna J (b 1889) and (Elizabeth M (b 1890).
Frank Joseph had a large family and descendants are in Connecticut and Canada. His descendants are:
Mary Agnes b 1914
Charles Joseph b 1916

Charles Joseph Jnr b 1938 (had 2 daughters)
Mary Lee
Roger W (in Ontario in 2007)

Francis Elizabeth b 1918
Katherine V b 1921
Gloria J b 1923
Helen R b 1925
Lawrence (b 1855)
Lawrence was single in 1920 and died in 1930.
Ellen (b 1856)
There is no record of Ellen surviving to adulthood.
Mary (b 1856) and Richard Deneen
Mary married Richard Deneen and had a large family.  This family has been well researched and documented.
Patrick died in 1885 and by 1900 Johanna was still living in Salisbury with the rest of the family (as Hayde).
Descendants are in Litchfield Connecticut.
I have shared information with descendants of Mary and Richard Deneen but have not traced any descendants of John.  Any further information would be welcome.
The family tree can be found at https://www.ancestry.co.uk/family-tree/tree/51523823/family