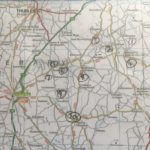 Early Origins
Most current Hayde families that I have located can trace their origins back to Ireland. The Irish history however is very difficult to piece together as many records were destroyed in a fire in 1922. There was also a paucity of records prior to 1800. Much of the records are also held in Ireland and it is necessary to research this material in Ireland, although during 2014 and 2015 some key records started becoming available on the internet through both pay per view sites as well as free sites.
Hayde, together with variants Heade, Hade, Haid and Haide, can be found in parish records in Counties Carlow, Kildare, Wicklow, Meath, Tipperary and Dublin.These typically started in the late 1700s (in the larger towns) and early 1800s (in more rural areas).
The earliest census, in 1659, showed 6 Head families in Ratoath, Meath, 7 Heade families in Slievardagh, Co. Tipperary and none in any other county. The Tipperary Hearth Money records of 1666/67 showed several Hayde (and variant) families living within a few kms of each other.
The next record taken of names was in 1766, when the Irish House of Lords resolved to undertake a census that distinguished between Protestants and Papists (ie Catholics) in each parish. Part of the records for South Tipperary have survived. They show a number of Head and Heade families in this area (together with Headen families).
Tipperary
The following table is a probable list of the 1659 families in Tipperary when compared with the 1665/6/7 Hearth records, the 1766 census and the 1820s (Tithe) and 1850s (Griffiths):
Civil parish
Places
1659 Family
1665/6/7
1766 Census
1820s Tithe
1850 Griffiths
Slievardagh
Ballingarry
Lisnamock/ Farnanrory
Family 1
Edmond and James Heade
Pat Heade at Boula
John Hayde at Boula
Killeheene/ Ballyphillip
Family 2
James Heade
James and Michael Hayde at Lickfinn
James and Michael Hayde at Lickfinn
Fennor
Poinstowne

(Poyntstown)

Family 3
James Heade
?
Judith Hayde at Gorteen and Matthew Hayde at Derryvella
Lismalin
Ikerrin
Family 4
Robert Heade
?
Thomas Hayde at Islands
Graistowne
Ballynure (Ballinure)
Family 5
John Haide/ Hyade
?
Patrick Hayde at Ballinure
Graistowne

(Graystown)

Family 6
Thomas Hade
John, Edmund and James at Noan
Edmund Hayde at Noan
Middlethird
 
 
 
 
 
 
Ballysheehan
Killballyherbry
Family 7
James Head
Philip and John Head of Magorhan
Patrick and Thomas at Killbally herberry
Probably evicted 1830s
St Johnstown
Mortelstown (just south of Kille)
Family 8
Richard Head
John Headd at Killenaule
Richard Hade at Killenaule
Rathcoole
Derryluskan
Family 9
James Hiade
James Head of Rathcoole
Patrick Headd at Coolmoyne
Mary Hayde at Coolmoyne
Railstown
 
Nich Head of Railstown
By Coolmoyne and Monameagh
Fethard
Rathdangin
Family 10
James Head
Prob Michael Hade at Fethard
Fethard
Kiltinan
 
Edmond Head of Killusty
The first 6 families probably constitute the 7 people noted in Slievardagh in 1659. The next 4 are probably the 5 people listed as O'Hea in Middlethird in 1659.
These 10 families are marked on the map below.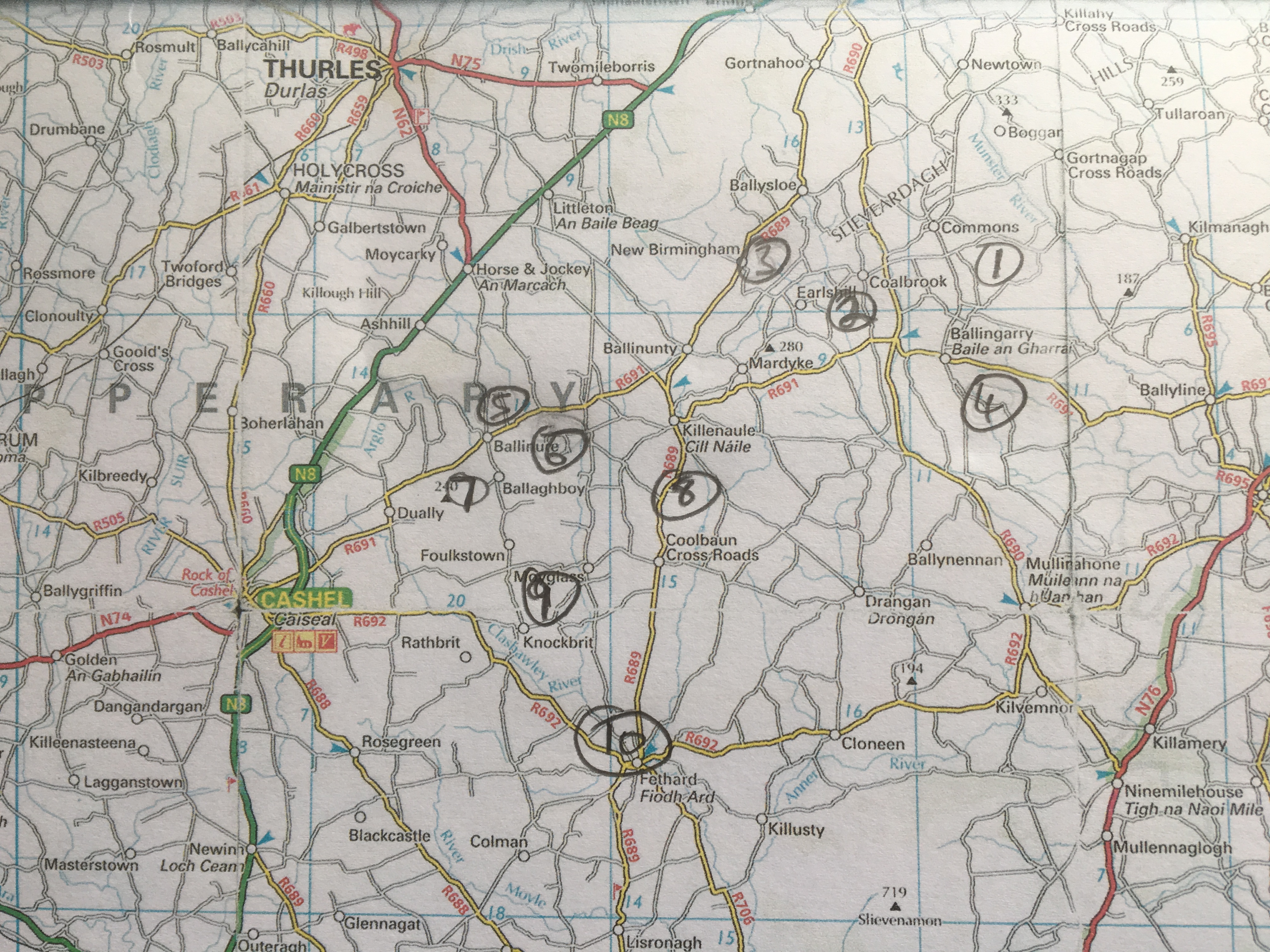 There appears to be two main family groups. Families 1, 2, 3 and 4 around the Ballingarry area and the others that are slightly further south.
The Middlethird barony centers on Cashel and borders Slievardagh to the east.  The border runs through Ballinure. Thus the families in Ballinure and Noan (5 and 6 above), which are in Slievardagh, actually border Killballyherberry (7 above) in Middlethird.
This family posts pages in the tabs below reflect these family groupings, with the southern group having separate family pages. The families in Carlow, Wicklow etc are probably descended from Tipperary families and are described in more detail on each family page.  The posts pages are structured to represent:
The Ballingarry family cluster (families 1, 2, 3 and 4 above)
Ballinure and Noan (families 5 and 6)

Family Trees # 6, 9 and 10

Killballyherberry (family 7)
Killenaule (family 8)
Derryluscan, Cashel (family 9)
Fethard (family 10)
Then the families that have expanded from the original 10 as follows:
North Tipperary (ie Thurles area)
Urlingford, Kilkenny
Dunnamaggan, Kilkenny
Kilkenny City
Carlow
Kildare and Wicklow
Dublin

Family Trees # 3, 16 and 18

Belfast
Trees 1, 3, 6, 9, 10, 15 and 16 have similar DNAs showing a common ancestor.
Meath
The 1659 census showed 6 Head families in Ratoath, Dunshaughlin.
At the time of the Tithe taxes in 1828, a Richard Haid was living in Ratoath town. From the Ratoath parish records this can be seen as Richard and Jane Brannan
Also in the Ratoath parish records were:
John and Catherine Moore who had a family in the late 1700s and early 1800s.  Catherine was in the Griffiths of 1854 as Heade residing at Rathdrinagh.
Patt and Judith Fagan who married in 1817. Judith was in the Griffiths of 1854 as Haid.
The Meath Posts page covers these origins and linkages in more detail. This is Tree # 17.
Research Material
The documents below show the research undertaken and the material gathered in more detail:
The History of Ireland as it affects our Genealogy – this is a brief history of Ireland and explores our potential origins
Key Reference Material – this summarises the main sources of genealogical data available.
Ireland – 1600-1800 –  outlines the Hayde/Hade/Heade/Haide references in this time period
Census Substitutes in 1800s– contains details of the families found in the Tithe records of the early 1800s and the Griffiths records of the mid 1800s and the land owning records of 1876.
Irish Probates and Wills – summarises relevant Irish probates and wills from 1458.
1901 and 1911 Civil Census is a summary of all the relevant families in Ireland at the time of the 1901 and 1911 census.
The theories that I have heard about how he/they could have arrived are as follows:
1.  As a survivor of the Spanish armada that was wrecked off the coast of Ireland in 1588. (This is not very likely as there is no evidence of seamanship among the early European Hayde families and most survivors were executed by the British if they reached land in Ireland).
2.  As a protestant emigrant from the Palatine area of Germany who made it to England and was transplanted into Ireland by the English to convert the Irish Catholics to Protestants. (While I have traced the emigration of a large number of Germans out of the Palatine area to Ireland and America (via England) in the 1700s, I have not been able to prove that a Hayde was among the party that went to Ireland (this is also later than when I think we first arrived in Ireland).
3.  As part of the Cromwellian resettlements from England in 1649 that survived the subsequent rebellion of the locals. (However, this is not logical as the new settlers became landowners and the Haydes that I have found were tenants and labourers on someone else's land).
4.  As a derivation of Hayden. This cannot be proven or disproven until we have done more work on the Hayde/Hade/Heade DNA and compared it to samples from Hayden/Headen/Headon families. Initial results show that the DNA for Hayde is not the same as DNA of Hayden or Haydon Irish families.
None of the above theories seem valid for the reasons described.
What is clear is that in 1659 there were circa 10 family groups within a 5 mile radius of Killenaule. The heads of 5 of these families shared the same first name of James. They were possibly named after either King James I or his grandson King James II.  James I ruled from 1603 until his death in 1625 when Charles I took over.  James II was born in 1633 and was crowned King in 1685.
It is however more likely that they were named after James Butler (1610-1688), the 12th Earl of Ormonde (appointed 1634). The Butler family presided over the Palatinate of Tipperary until it was purchased by the Crown under an act of Parliament in 1715.
It seems likely that the first Hayde who arrived in Ireland would have been born in the late 1500s. The DNA tests show Viking and Norman origins across two sets of DNA groupings. The mystery is why did a Viking settle in this area in this time period and how did a Norman derivation appear?