As outlined in the Irish Research page, a Richard Head was at Mortelstown at the time of the 1666/7 Hearth records. This is a village just south of Killenaule and for the purposes of this web site, I have treated it as a separate family from the others around Ballinure and Killballyherberry.
He is probably one of the O'Hea families in Middlethird in the 1659 census.
There is no surviving 1766 census records for this area so the Catholic parish records and the Tithe taxes in 1830 need to be relied upon to pick up the thread of ancestors.
In 1828, a John Headd was at Pike Road, Killenaule and by 1850 Richard Hade was at the same place. A Richard Hayde was at Cashel Road, Killenaule in 1849 according to the Cashel Poor Law Rate Books. John Hayd was a blacksmith in the 1856 Slaters Directory of Killenaule. The valuation records of the 1850s showed that Richard had at forge at his house on Main Street, which became Pike St.
The Killenaule parish records showed:
Richard mar Maria Bradshaw in 1824. They were at Main St (with John, his father, next door) and Pike St, Killenaule in the 1840s to 1870s. Pike St runs off Main St as can be seen from the Griffiths map reproduced below. Richard seems to have died in the 1870s and Maria took over the property at Main St. They had:
Ellen Hayde b 1825, Killenaule
Bridget Hayd b 1826, Killenaule. Mar Delahunty 1865. Albany, NY in 1871
Joanna Hayd b 1828, Killenaule
Mary Hayde b 1833, Killenaule. Mar Patrick Quinlan. Emigrated to London.
William Hayde b 1836, Killenaule
Richard Hayde b 1841, Killenaule. Mar Mary Brien 1856.

James Hayde b 1857, Foulkestown (a parish bordering Killenaule parish)
Mary Hayde b 1859, Foulkestown
Bridget Hayde b 1861
Catherine Hayde b 1862, Foulkestown
James Hayde b 1864, Foulkestown. Mar Anastasia. D Pennsylvania 1944
Marg Hade b 1867
Mary Hayde b 1869, Foulkestown. Mar 1896
Patrick Hayde b 1871, Foulkestown

Patrick Hayde b 1845, Killenaule
The valuation records showed Richard arriving at Foulkestown in 1857.
This family seems to have either left the area of died out.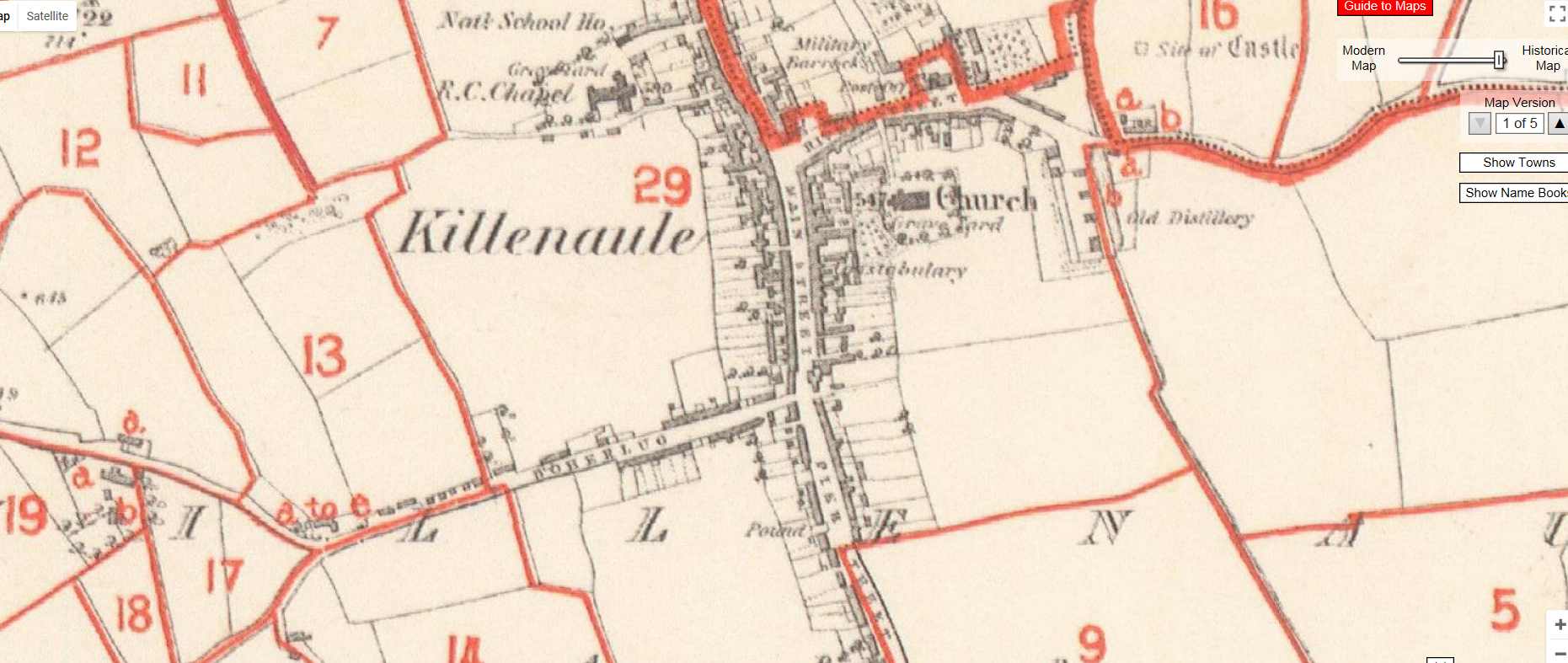 There is also:
John and Peggy Ryan. They married in 1832 as Haid from Killenaule. John is probably a brother of Richard. I have found no children or descendants.
I have treated this family as part of Tree # 10. The tree can be viewed at https://www.ancestry.co.uk/family-tree/tree/53054467/family?cfpid=13448753135
Richard (and John) are probably descendants of Richard and Margaret Croagh who had the following children in this parish:

Maria Heade b 1750
Thomas Head b 1762
Jacob (James) Heade b 1765. Mar Elizabeth Wilson 1795.


Joannes (John) Head b 1796. Mar Mary Maher

James Hayde b 1825, Cashel parish
Cath Hayde b 1828, Mockershill (by Monameagh, Cashel parish)
Richard Head b 1831, Boherangh
Tom Hayde b 1833, Ballincloragh
Mary Heade b 1836, Curraghtarsna (borders Mockershill)

Michael b 1798

Patrick Head b 1767
Richard Heade b 1770
Given the uncommon use of Richard, the families passing this name down the generations are probably related. The precise connection cannot be proven from the surviving records.
There were also three other families in this parish (of Killenaule) in the mid 1700s. These were:
1) Patrick and Joanna Fogerty from Killenaule who married in 1752
2) Michael and Ellen Wilson who married in 1792
Joannes (John) Head b 1793, Killenaule
Ellen Head b 1794
I have found no obvious descendants of these two families.