Patrick b 1792 and Ellen Doran

Patrick and Ellen (Doran/Dearan/Gorman) arrived in Oldham between 1829 and 1831 with 3 children.  They had a further 3 children in Oldham.
Their Irish origins are outlined in the Tipperary North page.
Patrick was an umbrella maker in 1841. He had died by the time of the 1851 census. Their children were:
William Hayde b 1822, Ireland. Mar Maria Murray

Mary E Hade b 1850, Oldham

Ellen Hade b 1827, Ireland
Mary Hade b 1829, Ireland. D before 1861
Patrick Hade b 1831, Oldham. D 1880
Michael Hade b 1834, Oldham. D before 1861
John Hayde b 1837, Oldham
They lived in central Oldham – Grosvenor St, Water St, Booth St and Ironmonger St. These streets are in central Oldham as can be seen from the old map below: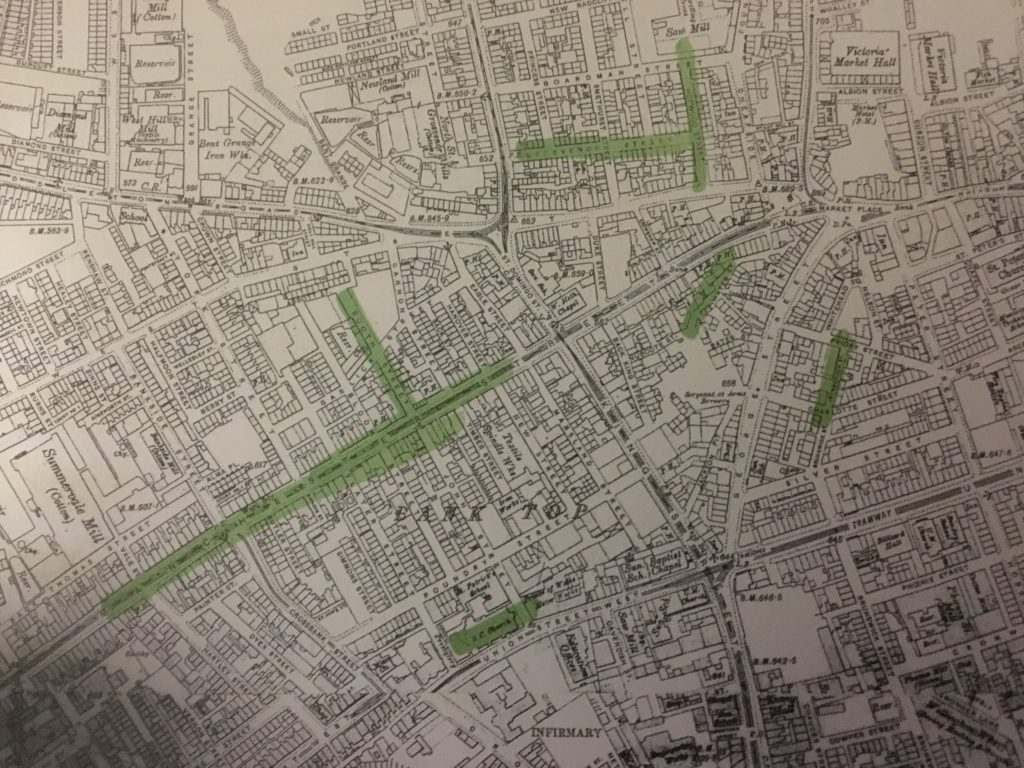 John Hayde, was ordained as a priest in Italy in 1867.  He was in Cork in 1861 and again from 1877 to 1887.  From 1873 to 1877 and then from 1887 to 1914 (when he died) he was at parishes in Cardiff.
Official church records describe how he was very popular with parishioners. A photo of him in 1896/97 is below: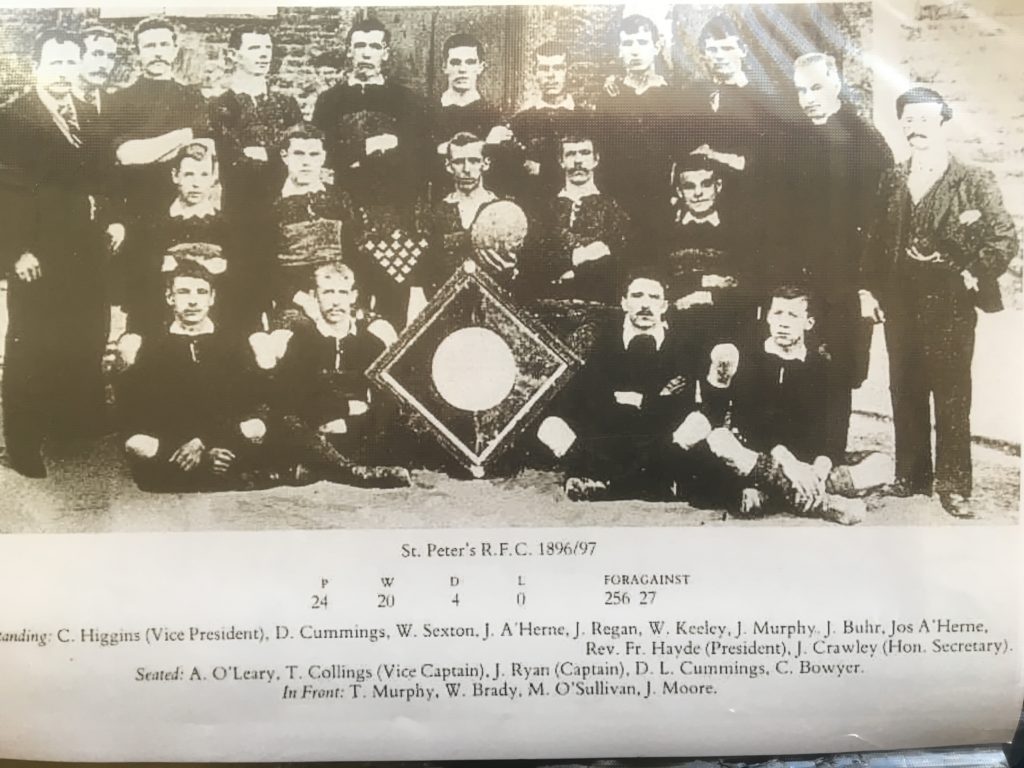 A close up is: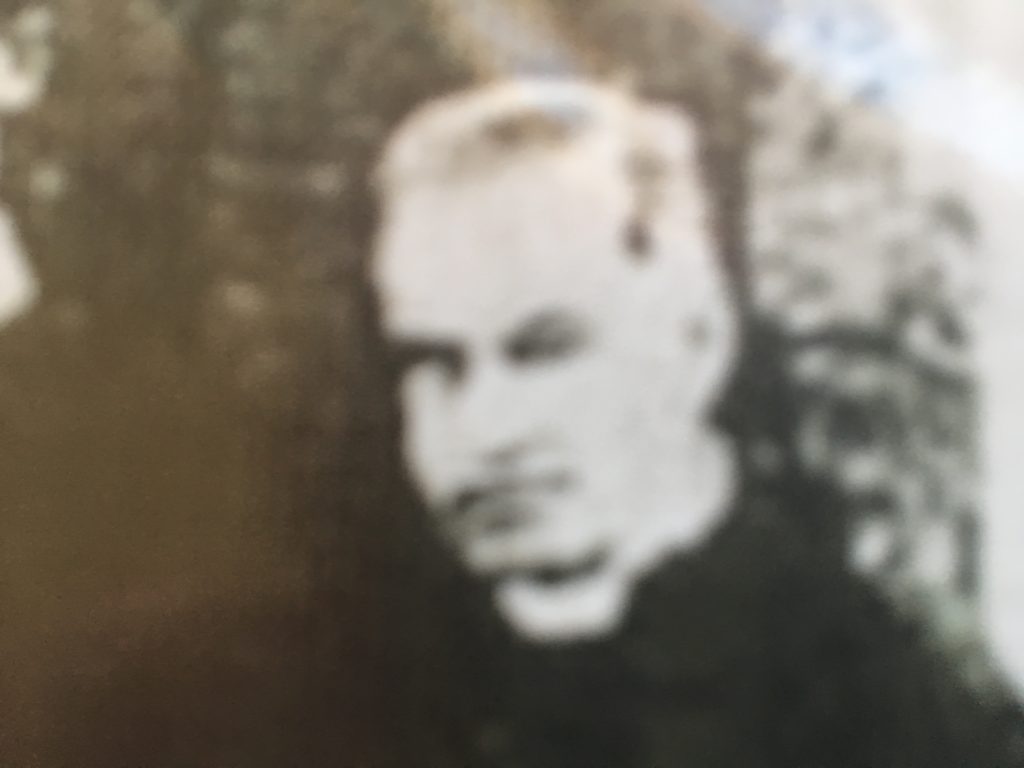 Patrick mar Mary Mooney (b 1804) in Drom, 1829.
The marriage was witnessed by James Heade. The children were baptised in the Templemore parish. Their Irish origins are outlined in the Tipperary North page.
Patrick seems to have died some time between 1847 (when his last child was born) and 1861 when Mary (his wife) and the surviving children were in Tonge, Middleton, Lancashire, England. This is close to where Patrick and Ellen were at the same time and they probably influenced this choice.
Their children were:
Nicholas Heade b 1831, Kilduff. D before 1861
John Heade b 1833, Kilduff. D 1898 Oldham
Patrick Heade b 1835, Kilduff. Patrick went to Ayr in Scotland looking for work and met a Lavina Kelly who he married in 1866.

John Hayde b 1867, Middleton. Mar Margaret Loughlan 1898, Middleton

Norah Hayde b 1898, Middleton
Wilfred Hayde b 1900, Middleton
Edward Hayde b 1903, Oldham. Married but had no children
John Hayde b 1905, Oldham. D 1905
Margaret Hayde b 1906, Oldham
Bernard Hayde b 1908, Oldham. D 1908
Mary Hayde b 1911, Oldham
Cathleen Hayde b 1913, Oldham

James Hayde b 1870, Middleton. Mar Agnes Leah 1895
Peter Hayde b 1872, Middleton. D 1873
Hannah Hayde b 1875, Middleton. D 1879
Nicholas Hayde b 1876, Middleton. Mar Janet Thomas 1921
Mary Elizabeth Hayde b 1882, Oldham. D 1905
Veronica Hayde b 1883, Oldham. D 1884

Anne/Hannah Heade b 1837, Kilduff. D before 1861
Mary Heade b 1839, Kilduff
Pierce/Peter Heade b 1842, Kilduff. He emigrated to America in 1868, married Mary Premo in 1874 and they settled in Detroit, Michigan. Their children are variously named Hade and Hayde. This is described further at the Detroit posts page.
Bridget Heade b 1844, Kilduff. D before 1861
Margaret Heade b 1847, Kilduff. D before 1861
They lived in Couper Row, Tonge, Middleton in the 1860 and 1870s. Patrick and Lavina settled in Dickens St, Middleton in the 1880s.
Middleton can be seen on the map below.
.