Material from other European Countries
France
The French International Genealogical Index (IGI) records show the following births in the parish of Seine-Et-Oise, Saint-Germaine-En-Laye:
Dorothea born 19 March 1697 to Guillaume (William) Hayde and Marie Risdon from Reyne, Angletere (i.e. England),
Charles Francois born 21 December 1698 to Guillaume Hayde and Marie Reisdon from Reine, Angletere.
This parish is in the northern suburbs of Paris.
In the original parish records William signed his name as Will Hyde, even though the index used the name Hayde. William was probably a relative of Anne Hyde (who married James II in 1659) and fled with James II to France in 1689. James II died in 1701 in Saint-Germaine-En-Laye, the same area where William was in 1697.
My current view therefore is that this linkage is not related to the Hayde family as it looks more like a transposition error and should be seen as part of the Hyde family.
The French IGI had several entries for German derivations of the name – i.e. Heid, Heidt, Heit, Heyd. These were mainly from areas that bordered on Germany.
Poland
The Polish IGI records show the following births in the county of Mikolaja:
Anton born 24 July 1805 to Jacob Hayde and Marianna Grzonka at Nedanna,
Franz born 22 Oct 1818 to Franz Hayde and Bregita Krosseck at Studzienna,
Bernadt Jacob born 23 July 1828 to Bernadt Hayde and Rosalia Herschberger at Neugarthen.
These records were submitted to the LDS after 1991 by a church member. No source information is available. I have however not found any connection to these people in any other country, or anyone that I have contacted.
Mikolaja is in the Southern part of Poland (around Wroclaw). This area borders on Czechoslovakia.
Hungary
A member of Tree #13 emigrated from the Palatinate in Germany to what is now Slovakia in 1812. His descendants live in Hungary, Slovakia, Australia and Germany.
A trade and industry directory of Hungary in 1891 has the following records for Hayde: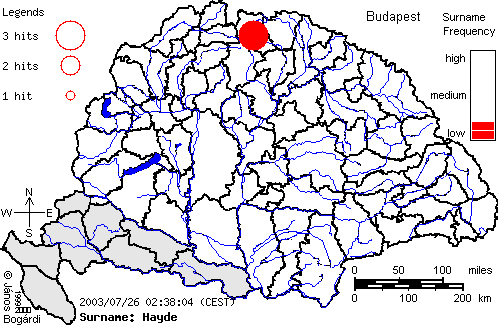 The three entries are for:
Gustav Hayde, a joiner,
Karoly (Charles) Hayde, a gingerbread maker and candle holder,
Karoly junior (Charles) Hayde, also a gingerbread maker and candle holder.
Austria
There was a Hayde family living in Vienna at the end of the 1800s. They moved to Latvia then Slovakia and then split in several directions to Germany, Australia and for some, back to Austria. Some may also have emigrated to America.
This is Tree #5. Many people in this tree are unaccounted for. I have not been able to link this to Tree # 13 even though they had similar Germanic origins.
Netherlands
The IGI for Netherlands has the occasional references to Van Der Hayde. I have not researched any of these people as I think the Van Der was added many many years ago.
Italy
Two name variations appear in some Italian records.
One uses the name Haydee as a surname and the other has the name Hayde as a middle name.
None of these link to families in other countries.