Patrick, John and James Hayde
As described in the Kilballyherberry posts page, Pat Hayde and Cath Kelly farmed a 3 acre plot in Killhill, Tipperary in the early 1800s.  They had 8 children that can be traced in the baptism records of the Boherlahan and Dually parish.
Pat is descended from Philip who was farming this land in 1766 with his wife Maria Kearney. They had 9 children and one was the grandfather of Pat.
In the 1830s Patrick defaulted on paying his tithes (taxes) and he appears to have been evicted from this farm.
Of the 8 children, 4 appear to have emigrated to America in the 1850s – Mary (b 1815), Patrick (b 1819), John (b 1826) and James (b 1831). There is no trace of descendants of any of other children in Ireland so they presumably died young.
Two of the sons, John (b 1826) and James (b 1831) were referenced in an advert in the Boston Pilot in 1865 where a nephew (Martin Dwyer) was looking to find them and their last known address was in Albany, NY. Mary (b 1815), married William Dyer in 1835 and it was probably his son Martin who was looking for John and James in 1865.
In 1850, Patrick was in Albany, NY. In 1860, he had married and had been joined by James and John who had also both married. In 1855, Patrick was noted as having been in Albany for 7 years. This probably means he arrived from Cork on the Brig D.B on 24 May 1847. John probably arrived on the Niagara on 12 Sept 1850 and James on Compromise on 7 Sept 1853. Their surnames were variously spelt as Hayde, Hade, Hayd and Head in these records.
I am not sure why they settled in Albany. Albany was a large city and a hub for transportation in the mid 1900s.  There is however no obvious reason why Patrick settled in Albany when he arrived in 1847. He was a labourer in 1850 and a servant in 1855. He didn't marry until circa 1857 so it couldn't have been any in-law influence.
In the 1830 and 1840 censuses, Albany was ranked as the 9th largest urban space in America and perhaps that attracted immigrants. It is shown on the map below: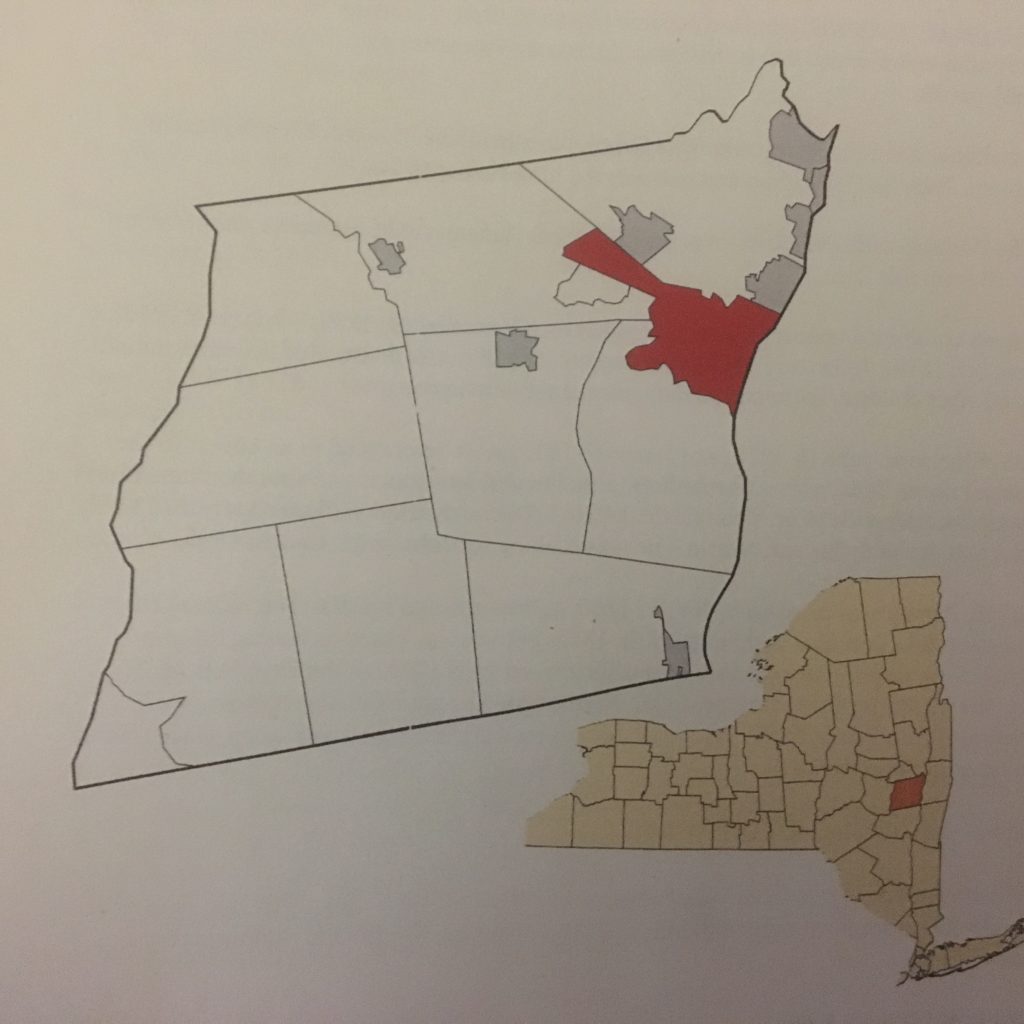 The above map shows the location of Albany City in Albany County and the State of New York.
Patrick (b 1819) and Mary
Patrick (b 1819) and Mary had Ellen (b 1855), Mary (b 1860), Margaret (b 1862), James (b 1864), Katie (b 1866), Annie (b 1867), Martha (b 1869 d bef 1880), Patrick (b 1876) and John (b 1879).
Patrick was probably naturalized 1868. He was also in the 1863 Civil War Draft Registration as Head. They were in Park Ave, Albany City as Haed in 1880.
The Albany City Directories show:
Patrick Hayde, gas foreman, Park Ave 1874, 1875
No-one from this family were in Albany in 1900 and there does not seem to be any trace of them in other counties or states.
John (b 1826) and Mary
John (b 1826) and Mary (b 1830) had Margaret (b 1855), Hannah (b 1858), John (b 1858 d 1858) and James J (1862) and can be traced to the 1870 (as Hade), 1875 (as Hayde) and 1880 (as Hade) census records.
In 1864 the Albany Directory noted that they were living at 67 Schuyter St, the same address they were at in the 1880 census.
The 1892 census showed Mary aged 50 (b 1842), Margaret 20 (b 1872), Anna 18 (1874) and James 22 (b 1870).
In 1900, Mary was living at Mulberry St, Albany and was recorded as having had 4 children with 3 still living. Mary was with Margaret (b 1874), Hannah (b 1876) and James (b 1877).  They were noted as being her children however the dates of birth are markedly different.
By 1910 the children were still living together in Mulberry St and were all single. In 1920, just Margaret (b 1878) and Anna (b 1882) were living at 53 Mulberry St.  The ages seem to get progressively distorted.
The Albany City Directory records show:
John at 53 Mulberry in 1885
John at 53 Mulberry with James J in 1888 and 1889
John died 30 Apr 1891
Mary Hayde as a widow of John in 1891, 1892, 1896 and 1903 at 53 Mulberry St
James J Hayde as a boatman then gardener in 1891, 1892, 1895, 1896, 1903, 1905, 1909, 1911 also at Mulberry St
James J Hayde as having died 19 Nov 1914
Margaret M E at 53 Mulberry in 1915, 1923, 1928
Hannah/Ida at 53 Mulberry in 1923, 1928
Then also (with connection uncertain):
John and Mary Hayde at 27 Central Ave in the 1950s
John J Hayde as having died 16 Dec 1953
Mary widow of John 27 Central Ave 1955, 1957
A John Hayde, b 1868 Albany, traveled from the Bahamas to New York in 1939. He was single. He is possibly the John who died in 1953.
James (b 1831) and Mary
James (b 1831) and Mary had Margaret (b 1857), Mary (b 1855), John (1862), Patrick (b 1864 d 1864). The 1870 census however did not include Margaret and by 1875 James was also missing from the census.
The 1863 Civil War Draft Registration included James Hade from Cherry St, Albany. The 1864 and 1869 Albany Directory had them staying at Cherry, near Green. James was naturalized on 7 Aug 1868.
The Albany City Directory records show:
James Hayde 49 Bassett 1861
James Hayde, carman, 71 Cherry in 1874
(note the 1875 census did not include James)
Mrs James Hayde 71 Cherry in 1875, 120 Arch in 1876 and 21 Broad in 1879
John Hayde, labourer, 269 Green in 1874, 1875
There is no trace of them in Albany in 1880 or later census records. There is also no obvious signs of them in another county or state.