Lawrence b 1812 and Ellen Doran
As was mentioned in the Ballingarry posts page, Lawrence was born in Ireland in 1812 and moved to Cardiff with his wife, Ellen Dorman/Doran/Dearan/Davern, in circa 1836. They had 5 sons and 3 daughters. The civil records had 1 birth recorded as Hade and 2 as Hayd. The rest were recorded as Hayde.
According to a relative, Lawrence was a groom on an estate in Ireland and Ellen was apparently the daughter of the house and that they eloped together. This probably explained why they ended up in Cardiff. Lord Bute was recruiting labourers at the time to help build the wharves in Cardiff. It appears that Lawrence continued to work with horses in Cardiff.
Lawrence is not a common name in the Hayde family. It was used in 1782 in Wicklow and Tipperary in 1830s.
I have searched for Doran/Dorman/Dearan/Davern families in Ireland and have found a Doran family in Boula, Ballingarry that lived not far from a Lawrence Hayde in the 1850s. I believe that this is the most likely origin of Lawrence and Ellen.
In the 1800s they lived in central Cardiff in what is now Barrack Lane plus Mary Anne Street and John Street. These streets are shown on a map from this time period below: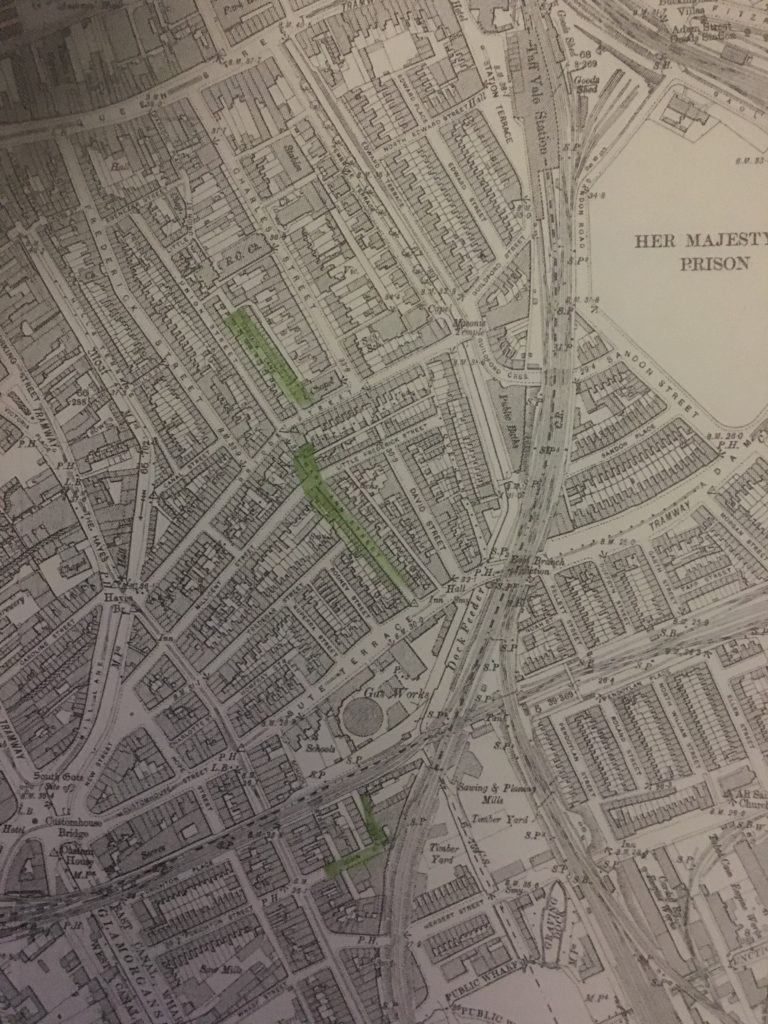 A more modern map with Barrack Lane pin pointed is below:
Two sons had families in Wales. Descendants are mainly in Wales.
A grandson, John Lawrence, served as a stoker in the Royal Naval Reserve Force on HMS Coleen from 1914-1919. Another grandson, Thomas, was killed during WW1.
The early descendants of Lawrence and Ellen are:
Mary Ann Hayde b 1835, The 1841 census shows here as born Cardiff but in 1851 and 1861 her birth was recorded as Ireland.  There is no sign of her baptism in Ireland or Cardiff.
John Hayde b 1837, Cardiff. Mar Catherine Howells

Anne Hayde b 1864
Laurence Hayde b 1868. D 1868
Mary Catherine Hayde b 1870
John Lawrence Hayde b 1872. Mar Ellen Griffiths

John Hayde b 1902
William Lawrence Hayde b 1910

Michael Hayde b 1839, Cardiff. Mar Margaret Christopher

John Lawrence b 1876. D 1876

Thomas Hayde b 1842, Cardiff. Mar Catherine Coughlin

James Hayde b 1864. Mar Margaret Ruby then Ellen Heap

James Hayde b 1888
Nancy Hayde b 1905
Catherine Hayde

Ellen Hayde b 1867
Thomas Hayde b 1869

Ann Hannah Hayde b 1844, Cardiff
James Hayde b 1847, Cardiff. D 1888
Richard Hayde b 1849, Cardiff. D 1849
Ellen Hayde b 1850, Cardiff
Further details are available from the ancestry web site at https://www.ancestry.co.uk/family-tree/tree/52746022/family
The UK census records containing more details on this family are:
England, Wales and Scotland Census Extracts 1841 – 1911
The Family Posts page for Ballingarry covers more detail around other descendants from Ballingarry.