James Haide and Nich Head

As mentioned in the Irish Research page, a James Hiade from Derryluskan, Rathcoole was in the Hearth Money records in 1665/6/7. He was probably one of the 10 families shown in the 1659 census of the area.
In 1766:
A James Head was at Rathcoole. This is close to Derryluskan. Godfrey Taylor and John Langley were listed as protestants on this census record.
A Nich Head was at Railstown. Railstown is between Coolmoyne and Monameagh.
This area is in the middle of the triangle between Cashel, Fethard and Ballinure.
At the time of the Tithe taxes in the 1820s, there were 3 families in this area that could have descended from James or Nich. These are:
Thomas Heade and Mary Dustil and Thomas Hayde and Catherine Cuddihy at Monameagh
Patrick Headd and Mary Glifson at Coolmoyne
Widow Heade at Brickeen
These areas can be seen on the map below: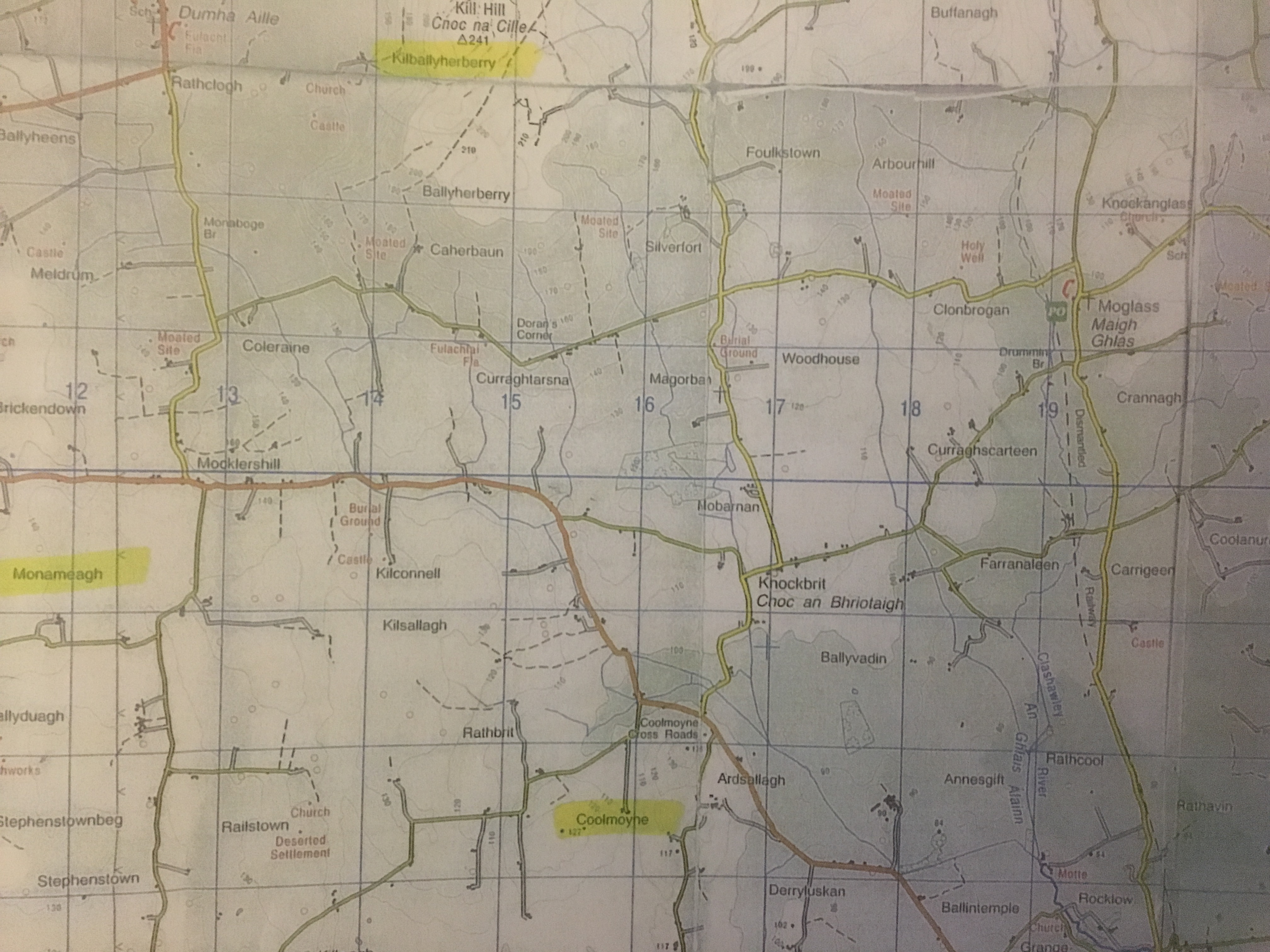 It is entirely possible that these families may link more directly back to other areas. For example, Monameagh is just south of Dually where Trees # 1, 9 and 10 can be traced back to.  The elder Thomas in Monameagh may well be a son of Richard and Margaret Croagh who had a Thomas in 1762 in Killenaule parish, however this of course is speculation.
For the purposes of this web site, these families are treated as descendants of either James Hiade from Derryluskan or Nich Head from Railtown.
Monameagh
In the Monameagh, Cashel parish in 1827, a Thomas Heade and Mary Dustil (or Portal) farmed a 1a 0r 0p plot owned by Lady Caroline Damer while a son, Thos Hayde (b 1799) and Catherine Cuddihy farmed a very small plot owned by Lord Portlington.
Thomas and Catherine married in 1821 (as Hade) and had at least 6 children in the 1820s and 1830s. By 1850 Thomas had died and his wife Catherine was farming 1a 1 r 23p on land owned by Thomas Dwyer (who was the major landowner in Monameagh at this time). Catherine was in the Cashel Poor Law Rate Books in 1849 and in the valuation records up until circa 1856.
The family can be seen as:
Thomas and Mary Dustil
Nicholas Heade b 1794. Mar Mary Barona

Mary Haide b 1823
James Heade b 1824
William Hayde b 1827, Mayfield
Catherine Head b 1829
Elizabeth Hayde b 1832, Mayfield
Ellen Hayde b 1834
Patrick Hayde b 1837
Nicholas Hayde b 1840, Mayfield

Catherine Heade b 1797
Thomas Hede b 1799. Mar Cath Cuddihy 1821.

Marg Hayde b 1821
Patrick Hayde b 1826. Emigrated to America and settled in Kansas.  This family is Tree # 12 and is detailed further in the Kansas posts page.
Michael Hayde b 1826
Nicholas Hayde b 1828, Monameagh
Ellen Hayde b 1831
Catherine Hayde b 1835
Monameagh is:
Coolmoyne
Patrick and Mary Glifson
Patrick and Mary farmed a small plot in 1827. Their children were:
James Hayde b 1809
Richard Hayde b 1811. In valuation records until 1856
Michael Hayde b 1816
Catherine Hayde b 1818
Patrick defaulted on his tithes in the 1830s. By 1850, Mary Hayde was farming 3 acres of the part of Coolmoyne owned by the Taylor family.  This family originates from Nathaniel Taylor, an officer in Cromwell's army, who was granted an estate of approximately 1,000 acres in the barony of Slievardagh, county Tipperary, including the townland of Noan in 1666. His grandson, Lovelace Taylor, purchased Ballinure in 1742.
Lovelace's son Godfrey Taylor of Noan, county Tipperary, married as his second wife, Lydia, daughter and heir of Nicholas Bacon, in 1758. Edward Taylor of Noan, barony of Slievardagh, county Tipperary, married Elizabeth Hewetson of Kilkenny and had three sons who all died childless and a daughter Anne. Edward died in 1802 and was succeeded by his son Nathaniel who died in 1828. His daughter Anne married John Bagwell of Kilmore in 1819 and the Bagwell family was in possession of this estate by the mid 19th century. It was sold to Stanley Black in 1853.
A younger brother of Edward, Nathanial Taylor, inherited Ballinure, a townland bordering Noan, but without a residence. Godfrey L. Taylor of Durrow, Queen's County (Laois), owned 996 acres in county Tipperary in the 1870s. In the mid 19th century the Taylor estate was in the parishes of Graystown, barony of Slievardagh, Peppardstown and Rathcool, barony of Middlethird. The estate of the trustees of the will of Godfrey Taylor at Rathkenny, barony of Middlethird, county Tipperary, was advertised for sale in May 1854.
Godfrey Taylor was the landowner at Coolmoyne where Hayde families were present from 1766.
Brickeen
Brickendown is in the same area as Mayfield. It is not entirely clear who this widow Heade is from the parish records.
Other families in the Cashel parish records (which started in 1793) are:
Thomas and Catherine Brophy
James Heade b 1795. Possibly moved to Ballinree
Honor Heade b 1797
Edmund and Margaret Mullane
John Heade b 1798. Mar Cath Ryan in 1822 as Hade
Nicholas and Nancy Wall
John Heade b 1799. Mar Mary Connors
James and Mary Herrick. James died Mayfield 1816.
James Hayde b 1806
Bridget Hayde b 1808
John and Mary Heffernan
Catherine Hayde b 1815
John Hayde b 1817
Bridget Hayde b 1821
There are also families in later time periods which can not be easily traced to any of the above. The detailed Cashel records provide more information.